There's no doubt that Leelanau County is home to some of the best views, but have you ever considered it home to some of the best food? Leelanau locals sure have, and I'm about to give you the in on some of our favorite things to eat around the county.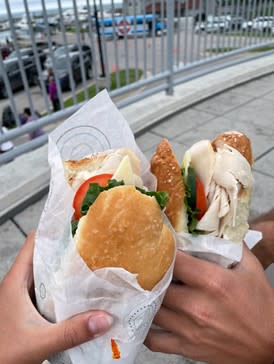 It only makes sense that I start with the Northshore sandwich from The Village Cheese Shanty in Leland. Now, you can't go wrong with anything you order here, but this sandwich is particularly delicious. Growing up in Leelanau County, I've been lucky enough to have Cheese Shanty sandwiches for as long as I can remember. For so long, I refused to try anything besides the Northshore. So last summer I made it my mission to try every sandwich on the menu to see if any would compare. Well, as amazing as they all were, I still found myself gravitating towards the Northshore once I had tried them all. There is a reason this sandwich was awarded the Red Hot Best Award for #1 Best Sandwich. Perhaps the best thing about the sandwich is the homemade pretzel bread it's served on. Made fresh in the shop every morning, this bread will surely get your taste buds dancing. Inside you'll find fresh turkey, swiss cheese, leafy lettuce, tomato, and cucumber.  But it's the homemade herb mayo is that ties these flavors altogether, in my opinion. I sometimes even order it with extra mayo, it's that delicious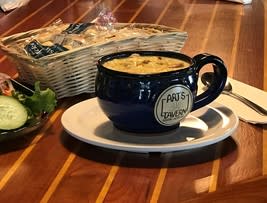 Another local favorite I have to mention is the chicken jalapeño soup from Art's Tavern in Glen Arbor. While you may know Art's for its delicious burgers, don't overlook their other menu items. Its delightful creaminess is accompanied by a slight kick. What makes this soup even more of a delicacy is that it is only made and served on Wednesdays. I think this adds to its specialty. If you're from Glen Arbor, you know that Wednesday is the best day of the week. Pair the chicken jalapeño soup with a side of tater tots and you have yourself a delicious meal.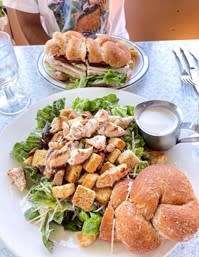 Another favorite that may not be as widely known is the Caesar salad from Good Harbor Grill. Now I know what you may be thinking, "I can get a Caesar salad anywhere." This is true, but this Caesar salad is served with the freshest mixed greens, incredibly creamy homemade garlicky Caesar dressing, homemade croutons, and is served with a piece of their homemade bread. Everything about this salad is perfectly done. My favorite thing to do is to order grilled whitefish to be added. The whitefish is freshly caught every morning from Carlson's in Leland. I guarantee this will be one of the best salads you've ever had.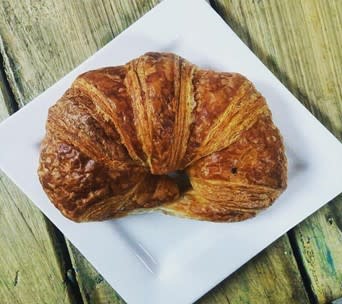 This next food item causes a line that seems like a mile long at the farmer's market every week. That being the croissants from 9 Bean Rows Bakery in Suttons Bay. These freshly baked croissants have the perfect buttery flavor and flaky consistency. They are so popular that they are almost always sold out by the time I get to the farmer's market. Their flavors consist of classic butter, chocolate, cream cheese, ham and cheese, almond, and my personal favorite, spinach, and feta. They are also sold at the main bakery located in Suttons Bay along with many other baked goods and foods. 
I have only scratched the surface of all the amazing foods around Leelanau County. If you're ever in the area, I suggest venturing to each of these towns and trying these items; trust me, you won't regret it. I hope this provides some guidance for you and your meals while traveling. And if you're a local and haven't tried any of these things yet—don't wait any longer! Bon Appétit!
Photo Credits: