There's a phenomenon underway in the winter woods this year. There are bikes – fat ones – everywhere. Sure, they've been around for years but with the pandemic, everyone wants out… and Leelanau County is answering the call!
TIPS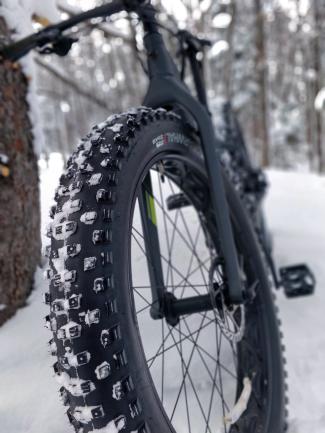 If you've never been on a fat bike, get ready for what feels like a slow-rolling couch ride. These things will go just about anywhere and what a delight they are. Unlike skis, they can take you out in the woods in pretty much any condition. Groomed trails are NICE (yes!!) but a packed-down two-track or snowmobile trail will work, too. They offer a new kind of winter wonderland freedom. A go-anywhere, bump-along snowy-tour that you can't get with any other outdoor sport.
However.
This isn't your high-flying look-ma no-hands experience. It's not entirely a serene, slow roll either. Because, dang, if you don't just feel like a beast on a fat bike. You can just go. Rolling those huge tires over the snowpack is like stomping, softly, with authority. You feel powerful, even as you're out of breath…. Because did I mention? The bigger, sturdier tires mean there's very little coasting – which is personally my favorite part of biking. Be prepared to be the engine, albeit a slow and touring engine, as you putter through the woods in all your beastliness!
One word of warning: Ice is ice. While weather conditions are almost always favorable for fat biking, you can't beat ice. Look for traction on the trail – the give of a little snow. If it's icy, consider going another day, finding a groomed trail, or being prepared to do a little fishtailing or meeting up with the ground.
ETIQUETTE
Most trails ask that riders stay off the trail if it's warmer than 30 degrees so that they don't leave grooves in a soft, melting trail. If you are leaving more than a 1" trail with your tire, conditions are too soft for a groomed trail ride. Also, go for a PSI of 4-6psi in your tires. Lower pressure means more grip and less groove. If you have to walk for any reason, please don't walk up the trail and leave divots. Try to roll your bike on the groomed trail and instead leave your footprints in the fresh snow along the side of the trail. Every divot that gets frozen into the base is a groomer's headache the next morning! (And hats off to the groomers – thank you!)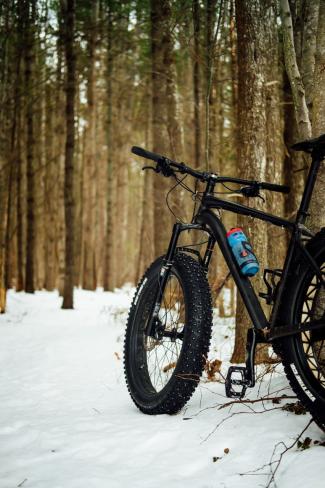 TRAILS
RENTALS
Fat bikes can be rented from several places. Call early, as they sell out quickly! 
Expect to pay around $40-$50 for a half-day rental or $55-$70 for a full day rental. Enjoy!