That thrill you've been seeking? We have the coordinates. The woods, water, and wide-open spaces in and around the Sleeping Bear Dunes deliver options for outdoor recreation few other Midwest destinations can match. From challenging to family-friendly, here's a rundown of five favorites to get your out there exploring, making memories, and having fun.
MAKE A SPLASH
Looking for a healthy dose of Mother Nature and an activity that gets the blood moving? Canoeing or kayaking in Northern Michigan is always time well spent.
Enjoy just over two, easy miles of paddling on the beautiful Crystal River, all in the heart of the Sleeping Bear Dunes. Most people complete this relaxed and woodsy float in little more than an hour. Sit-on-top kayak and canoe rentals are available through Glen Arbor's Crystal River Outfitters (crystalriveroutfitters.com).
For a big-water experience and coastal scenery, try a guided Lake Michigan kayak tour with All About Water (allaboutwaterusa.com). No kayaking experience required. Their Pierce Stocking Scenic Overlook tour takes you along the beautiful Sleeping Bear shoreline to the base of what is probably the most recognized natural feature in the park.
HIT THE GREENS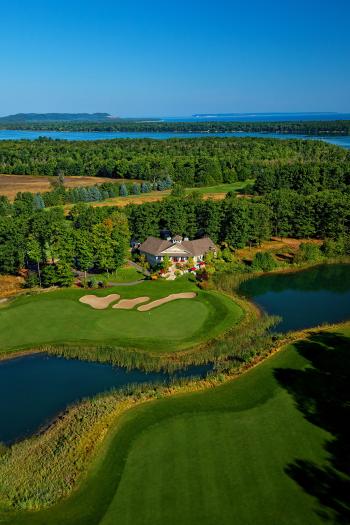 Located just 15 minutes north of The Homestead, Manitou Passage Golf Club (manitoupassagegolfclub.com) delivers supreme service and breathtaking scenery—dramatic elevation changes, long rides through the woods between tee boxes, bent-grass greens and fairways, and the very real chance of sneaking up on grazing deer in the club's super quiet electric carts. Be sure to stop by the clubhouse restaurant—Arnie's Grill—to check out their outstanding food and drink menu that includes local wines, spirits, and beer.
BIKE THE BEAR
Biking is a great way to experience the dune country, farms, forests, and small towns that dot the Sleeping Bear Dunes National Lakeshore. Paved and biker-friendly, the Sleeping Bear Heritage Trail currently runs for 22 miles between Empire and Bohemia Road, north of Glen Arbor. The stretch running just over four miles from the Dune Climb to Glen Arbor is a family favorite.  It's not as hilly as the southern end of the trail—namely the stretch from Empire to the Dune Climb. Bikes for youth, road, mountain, or tandem can be rented from Crystal River Outfitters (crystalriveroutfitters.com)
For biking adventure off the hardtop, the Leelanau Conservancy's Palmer Woods Forest Reserve (check leelanauconservancy.org for directions) offers miles of intermediate, single-track flow style through rolling, hardwoods forests.  A mix of challenging climbs with rewarding downhill descents, the trail system also features rollers, berms, drops, and optional sections with tabletops and jumps for advanced riders.
TAKE A HIKE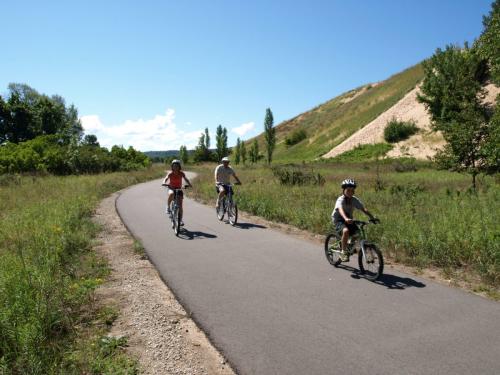 With 14 mainland trails totaling more than 100 miles, the Lakeshore's pathway system is a great way to see the country and get some exercise whatever your pace. Two of Sleeping Bear's most popular trails are Empire Bluffs (1.5-mile roundtrip) and Pyramid Point, which offers the choice of a 2.7-mile loop or a short, uphill trek of .6 miles to a stunning view of Lake Michigan and the Manitou Islands. Get trail maps and accessibility information about each official trail in the park when you pick up your park pass at the Philip A. Hart Visitors Center in Empire or online at nps.gov/slbe.   
Outside the Lakeshore, the Leelanau Conservancy has worked to preserve over 11,000 acres of forests, farm country, and shoreline. To encourage the public to visit and explore these beautiful scenic spaces like Palmer Woods (above), the Conservancy has created a guide to the 24 natural areas under the nonprofit's management umbrella (leelanauconservancy.org).
CATCH A BIG ONE
Hook some memories that will last a lifetime. Inside the boundaries of the Lakeshore, the Crystal River running through Glen Arbor gets a small but reliable run of spring steelhead and early-fall salmon. The river is also home year-round to a stable population of trout. A couple good, public access points for anglers: the bridge on W. Overbrook Drive off M-22 and the bridge on county road 667 (look for the culvert pipes) are two popular spots. When wade fishing, just remember to respect private property rights. 
Hire a charter-boat captain, and you don't need any fishing gear. You don't have to know any fishing knots or how to even take a fish off a hook. As when fishing on your own, all you have to do is have a valid Michigan fishing license (go to michigan.gov/dnr to get yours online), show up with sunglasses, snacks and drinks, come dressed in layers, and be prepared to have a good time.
Whatever the time of year, charter captains know where the fish are congregating and what they're biting on. Two popular options are Watta Bite Charter Fishing (wattabite.com) that launches out of Glen Arbor and Reelin' Leland (reelinleland.com) launching out of Leland.