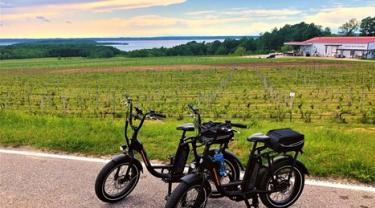 E-bikes have, shall we say, found their pace in the last year or so. While they were initially met with skepticism when they came on the scene about a decade ago, they have since found their place in the market.
"It's a different demographic that likes e-bikes versus regular bikes," says Keith Conway, sales manager of Suttons Bay Bikes. "They are popular with people who don't workout, who might live in the city and don't have a bike at all, or people who are not able to ride as far as they used to."
Conway said that before Covid, they never sold out of e-bikes. Now – they can't keep them in stock and there's a long waitlist of customers for the next shipment.
"The demand is so wicked high," he said. "People weren't getting out before, but now they want to be outdoors."
An e-bike is a bike powered by a battery. They aren't like motorcycles with engines. Instead, they are electric "assist" bikes, where you must pedal to move the bike. A sensor on the bike detects your pedaling, and the motor kicks in to "assist" your pedaling, depending on what setting you have chosen to ride at. You can choose more or less power, depending on the workout you're looking for.
And that's the beauty of e-bikes – you can still get a workout, but go on longer rides, cover more terrain, and keep pace with faster friends. And big hills no longer take the fun out of riding!
Conway said a typical e-bike cruise is at around 12mph, and can go up to 19mph, but "you'd really have to be pedaling hard to get it going that fast," he said. "You might as well be on a regular bike then!"
There are a couple of perfect e-bike trails in Leelanau County, both with e-bike rentals nearby. Here's a selection of what's available.
E-bike friendly trails:
Leelanau Trail:
15.5 miles
Paved Trail - Easy
The mostly flat 15.5-mile Leelanau Trail runs from Suttons Bay to Traverse City. The trail takes you through canopied forest, endless orchards and vineyards.
Trail Map: https://traversetrails.org/wp-content/uploads/2020/02/LeelanauTrail-PDF-2014-1.pdf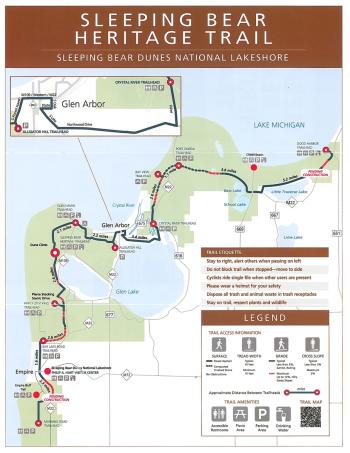 Sleeping Bear Heritage Trail:
22 miles
Paved/Gravel Trail – Easy to moderate
This trail takes you from Empire to Glen Arbor to Good Harbor, connecting to Sleeping Bear Dunes park attractions along the way. Most of the trail is asphalt, but a 3-mile section that goes through the Port Oneida Rural Historic District north of Glen Arbor is crushed stone.
Trail Map: https://www.nps.gov/slbe/planyourvisit/sbht.htm
E-bike rentals:
Suttons Bay Bikes
E-bike rentals: $20/hour. They offer small to XL bike frames for rental.
They also offer a specific "E-bike the Vines Tour" on the Leelanau Trail for $91 per person. Visit up to10 wineries along the Leelanau Trail and on quiet backroads on your e-bike. The tour starts and stops in Suttons Bay and is self-guided, which allows you to travel at your own pace, stop to soak in the scenery or stay a little longer at your favorite winery. Best of all, they deliver a catered deli box lunch to a winery, so you can settle in for your own private picnic overlooking the vineyards.
sbd Tours, Empire
E- bike rentals: $65 for a 4+ hour rental.
sbd Tours provides rentals for riding on the Sleeping Bear Heritage Trail in the countryside of Leelanau County with a battery range of about 40 miles. They rent adult bikes only and you must be 18 years old to rent. Consider a cruise from Empire to Glen Arbor with a halfway stop at the Dunes!
Riding Electric, Cherry Bend Rd., Traverse City
E- bike rentals: $60 for a half day, $90 full day.
These bikes come equipped with a hill-climbing motor, a spare battery, helmet, plus free pick-up, and delivery. The bikes offer a 60-mile battery range. Just on the Leelanau Trail off Cherry Bend Road!
The Cyclery, Glen Arbor
https://crystalriveroutfitters.com/the-cyclery/#
E-bike rentals: $80 for the day.
Rent bikes by the day and jump on the Sleeping Bear Heritage Trail. A fun option is to head down for a pizza at the Empire Village Inn, then back to Glen Arbor for ice cream at The Pine Cone. Or consider a guided bike tour of historic Glen Haven or Port Oneida. This is a new option this year, with 5 different tours offered by Preserve Historic Sleeping Bear.