Why are we talking about ski and snowboard pass information for the 2016-2017 season? AccuWeather just released its long-range winter forecast last week and it looks like the coming months will see higher than average snowfall spread out over plenty of winter storms. Read on…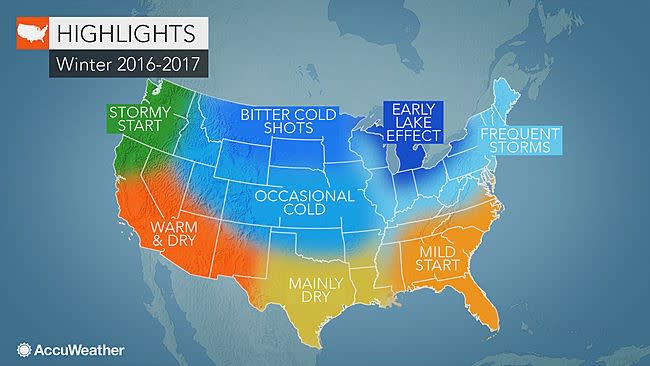 [source: accuweather.com]
 Remember last winter when almost all the season's snowfall seemed to come pretty much at once? Then it got warm and rainy after Christmas and well, can we just come out and say it: The ski conditions Up North were just terrible.
 Not so this year, says AccuWeather reporter Jillian MacMath.
 Quoting weather experts in a news release sent out from the agency last week, MacMath outlined long-range winter predictions calling for frequent snowstorms that last well into spring for the Northeast and northern Midwest. AccuWeather experts are also looking for early lake effect snow to hit areas of Michigan in the months to come. Click here to read the full story.
 While professional meteorologists are skeptical of The Old Farmer's Almanac, it's also interesting to note that North America's oldest continuously published periodical also predicts that the snowiest part of winter will be mid- to late January to early mid-February. 
 No Change In Winter Pass Rates At The Homestead
 The Homestead started the ski area in 1984 with a very clear goal—to provide a safe, service-oriented, family friendly and un-crowded ski and snowboarding environment. Great for first timers or those who are re-entering the sport to learn or refresh their skills in an unintimidating area, The Homestead has always limited lift ticket sales to prevent long lift-lines and overcrowded/unsafe runs while learning. When the lifts were installed, The Homestead even made sure the lift-chairs were closer to the ground to provide a less intimidating ride to the top while still allowing for great views of the spectacular Lake Michigan scenery that surrounds.
 Continuing the tradition of offering snow-sports lovers the best season pass option around—one that gets you to the hills as fast and cheaply as possible—The Homestead will not be raising rates for 2016-2017 winter passes.
 At The Homestead, children age 8 and under ski for free (including free ski rental) when accompanied by unlimited adult pass holders. Adults and seniors who take advantage of early-bird discounts also enjoy great savings when purchasing passes before October 31st.  From now until the end of October, for example, the price for one adult/unlimited pass is only $179 (senior/unlimited, $159). Prices go up November 1st and again on December 1st. 
 Click here for the 2016-2017 ski and snowboarding season flyer and pass order form. Or call 231.334.5000 for questions.