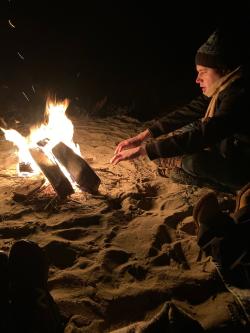 We start feeling it in late February, don't we? The promise of spring and summer. Bashfully, furtively, we dare to fantasize about wildflowers, swimming, and beach bonfires to warm us post-swim. It's coming. Sooner than you think. Are you ready?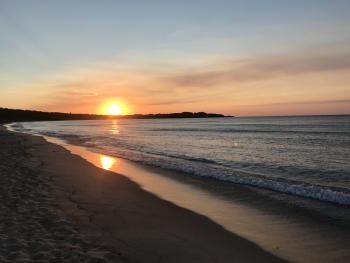 And yet, right now, we're in the thick of it — though the sun grows stronger, sunsets stretch longer, winter sports bring joy, and the landscape glistens with exquisite beauty. We're in winter, and we will be for a while.
For some, it's their favorite season. For some, maybe not. There are definitely lots of meaningful activities for all of us to enjoy, though, even during these unprecedented times. And even art lovers — people who might not be first in line for ski lift tickets, but might be first in line for tickets to the opera — can find refuge up here. Leelanau is an artistic haven. Always has been. Always will be. The winter of 2021 is no exception.
Here are three ideas for art lovers in Leelanau this winter.
1. A private screening at a movie theater!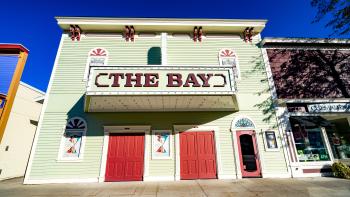 Yes, that's a thing. It's an extraordinary opportunity which I'm guessing won't last long. You and your group can bring a DVD/Blue-Ray and screen your favorite film at the Bay Theater in Suttons Bay — one of Leelanau's iconic towns. Covid restrictions apply: masks, contact information, and social distancing. Please see the Bay's website for details on how to apply. 
I mean…your own historic movie theater! With your favorite film! Jeez!
Which film would you choose? If I could screen one film for my friends and family, what would it be? I'm torn!
Maybe a classic Western like Rio Bravo? A film noir-like Sunset Boulevard or Double Indemnity? A great art-house foreign film like That Obscure Object of Desire, or Stalker? The Shining? Jaws? Star Wars? Or maybe Singin' in the Rain! I honestly don't know. I haven't thought about it enough. But you can! And if I were you, I would think about it sooner rather than later, because this is the opportunity of a lifetime for film buffs.
Sherry Edwards, director of programming for The Bay, shared some thoughts with me about how it's been going so far.
"Our Private Screenings have been very popular.  Private Screenings give people a chance to do something fun that's out of the ordinary in a safe environment. They like to have a night on the town yet have the whole space for just their immediate friends and family. 
Some of our guests just wanted to go out for the evening to view a favorite film on a really big screen with a great sound system. We've also had several really fun birthday parties, And we even had a marriage proposal where the hopeful groom created his own special movie. It was all done as a surprise to the bride, with both sets of parents sneaking into town to share in the big event. Happily, she said yes! 
At this time, private screenings are available every day anytime between 1:00 pm and 10:00 pm."
2. Experience the artistic 'Shanty Village' at The Little Traverse Inn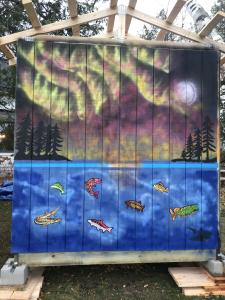 Sometimes a remarkable, inspiring thing happens. One of those things was The Little Traverse Inn constructing a beautiful Shanty Village in their beer garden, with heated, sanitized, private dining shanties. It has blown up on social media and launched numerous news articles, and folks are flocking to it, thanks to the vision of owner Graeme Leask. Even with indoor dining now available in Michigan (including at the "LTI," as locals call it), you might find yourself wanting the shanty experience. A fire pit roars at the center of the village. You savor an aperitif with friends, and laugh around the fire, as you await your shanty, with shadows from the fire flickering on the giant birch tree that is the lord of the manor. Lights are strung above you, lending mood and mirth. February's moon shines bright. 
"Come visit our artistic village of shanties in 'Leelanau's living room'," Graeme beams to me when I ask him for a soundbite, as he's pouring a beer -- using a nickname for the warm and welcoming environment that the LTI is famous for.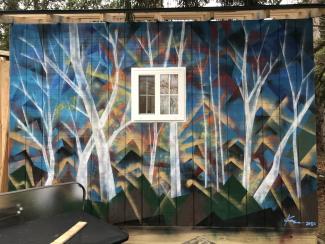 Local artists, including Michelle Schulte and Kaz McCue, have graced the shanties' exteriors with their murals. Schulte's work is a dream of aurora borealis above, and vibrant fish below — an electric ode to the north, drawing from modern Native American styles. McCue summons a rhythmic and powerful cubist landscape of mountains, tinged with gold. These are marvelous paintings that just happen to be part of your family's dining experience. 
Make sure you have a reservation! The LTI is busy. Or just swing by the bonfire for a draft beer or White Russian, if you're winging it.
3. Go contactless with virtual classes, exhibits, programs, and events at the Glen Arbor Arts Center
Nestled quietly in downtown Glen Arbor (the town at the heart of the Sleeping Bear Dunes National Lakeshore), in an airy modern building that serves as a refuge amid summer's hubbub, the Glen Arbor Arts Center punches above its weight with a bounty of activities and outreach. That has always been the case, and has not changed this year. But this year, a lot of it is on Zoom. 
I've been amazed at the cornucopia of artistic events pouring forth from the GAAC during these times. They haven't missed a step. Recent Facebook invitations include "Manual Photography Artistic Challenge," "Drawing the Figure from Memory and Imagination," "Winter Sketchbook Practices," "Attend Art Lectures from Home," "Botanical Sunprints: Intro to Cyanotype"…and on, and on.
Many of these happenings are virtual, and many aren't free. But if you find yourself in Leelanau for a bit, and you're wanting to learn and grow in your artistic inclinations, and especially if you're taking care to flourish while distancing, check out the offerings of the GAAC. Something is always bubbling up there. They're never sitting still. As I've said…Leenalau is a "haven" for artists, and the GAAC is a beacon within that haven.
There's no doubt about it…Spring will be here faster than you can say "Hey Robin, jolly Robin." But when spring comes, with summer right behind it, will you perchance wonder if you missed some uniquely cool artistic experiences during this weird winter? Like watching Citizen Kane (or whatever you want to watch!) at The Bay Theater; admiring inspired murals at The Little Traverse Inn, honing your artistic skills with Zoom classes at the Glen Arbor Arts Center? Strange times make for strangely awesome opportunities.