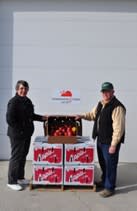 Fall in Northern Michigan - the season of vibrant leaves, color tours, cinnamon donuts, and, of course, apples! The season would not be complete without fresh apples, apple cider, apple pie…you get the picture. We look forward to these things all year, but fail to realize the numerous factors that affect the quality of your apples each year..
We spoke with Jim Bardenhagen, a local farmer to get the inside scoop on how this year's apple season has been. "Harvest season was rough with the rain and cold. Last night it hit below-freezing temperatures, so we have to let the apples warm back up before we pick them" Jim explains. While too much rain can certainly be a bad thing, the rain was actually helpful due to the little to no rain in the early summer.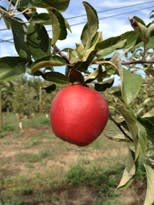 With several varieties such as Gala, Ginger Gold, and Macintosh - Honeycrisp remains their most popular apple, despite its higher price point. Bardenhagen estimated that the farm has harvested around 75 bins of apples this season so far and claims "it won't be long until we're up to 150 bins." For reference, each bin consists of 18 bushels. That's a lot of apples!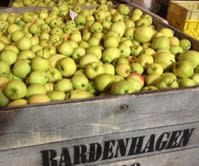 Does all this talk of deliciously crisp apples have your mouth watering yet? Well, we've got you covered. Bardenhagen's farm stand is open every day from 8 am - 8 pm at 7881 E Pertner Rd, Suttons Bay, MI. Bardenhagen apples can also be found across the county in select grocery stores if you're unable to make the trip out to their farm stand.
It's officially November, and that means Thanksgiving is just around the corner. Let's all acknowledge the real stars of the Thanksgiving table: side dishes and dessert, of course. If you find yourself in a pinch and in need of a simple, yet delicious recipe, consider making homemade applesauce or a scrumptious apple pie with locally sourced apples. Below are some recipes for you to try out after your next shopping trip. Be sure to tag us on Facebook if you make either of these - we'd love to see your creations!
Ingredients:
4 apples - peeled, cored, and chopped
¾ cup water
¼ cup white sugar or maple syrup
½ teaspoon ground cinnamon or cinnamon sticks
Step 1:
Combine apples, water, sugar/maple syrup, and cinnamon/cinnamon sticks in a saucepan; cover and cook over medium heat until apples are soft, about 15 to 20 minutes.
Pro tip: use a variety of apples for a more complex flavor.
Step 2:
Allow the apple mixture to cool, then mash with a fork or potato masher until it is the consistency you like.
Ingredients:
6 cups thinly sliced, peeled medium apples
¾ cup sugar
2 tablespoons all-purpose flour
¾ teaspoon ground cinnamon
¼ teaspoon salt
⅛ teaspoon ground nutmeg
1 tablespoon lemon juice
Step 1:
Peel 6 medium apples and slice them thinly until you have 6 cups.
Step 2:
Combine Ingredients
In a large bowl, combine all the filling ingredients except the apples and lemon juice.
Step 3:
Mix well. Toss lemon juice and apples in the mixture to coat thoroughly to finish off the filling.
Step 4:
Heat oven to 425°F. Place 1 pie crust in an ungreased 9-inch glass pie plate. Press firmly against side and bottom.
Step 5:
In a large mixing bowl, gently mix the filling and spoon into your crust-lined pie plate. Place the second crust on top, and wrap any excess top crust under the edge of the bottom crust. Press edges of the two crusts together to seal them, and use your fingers to make a fluted (crimped) edge. Use a knife to make slits or cut out shapes from the top crust.
Step 6:
Bake for 40 to 45 minutes or until the apples are tender and the crust is golden brown. Cover the edge of the crust with 2- to 3-inch wide strips of foil after the first 15 to 20 minutes of baking to prevent excessive browning.