Nestled right off of M22, a storybook farmhouse overlooking an apple and grape-growing paradise awaits you.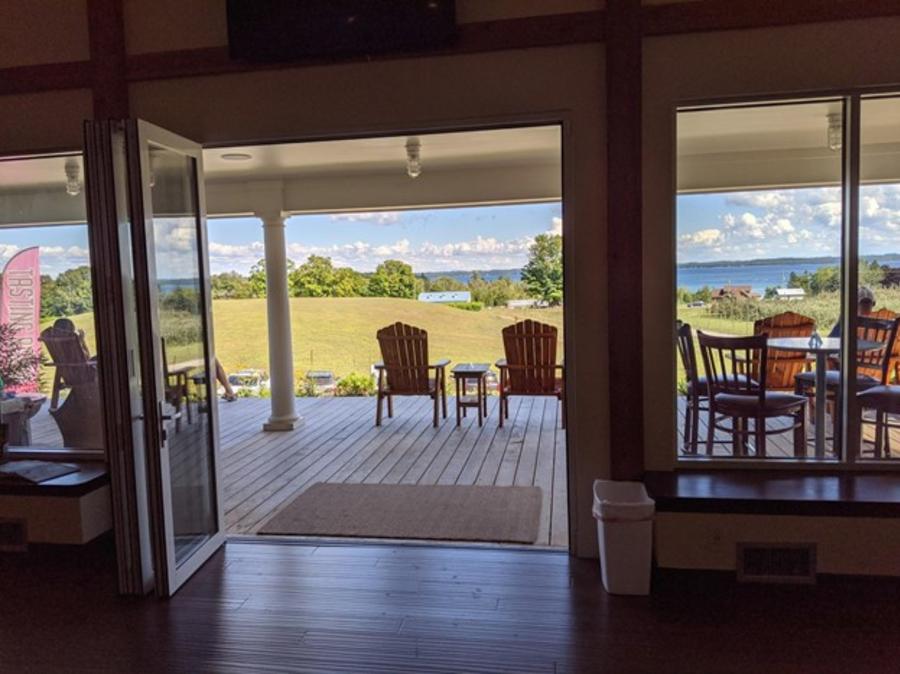 Admittedly, Two K Farms' modest wood sign does little to advertise the breathtaking property that sits tucked away until you venture up the casual dirt road. But for the daring explorers who loved to get lost on Leelanau, your hunch that something special might lay beyond is quickly rewarded. 
As you make your way up the charmingly informal driveway toward the beckoning farmhouse-style winery that's perfectly perched at the top of the hill, the quaint apple orchard to your left will surely wet your appetite for something tart and refreshing.
An experience that feels much like coming home to something familiar and cozy, as you park and approach the side of the farmhouse tasting room, the true downhome magic kicks in. But don't let the welcoming, pull-up-an-Adirondack ambiance fool you: Two K boasts much more than a humble glass of fermented apples. In fact, the menu is frankly a bit overwhelming at first glance, and you realize almost immediately that you're in the presence of true artisans.
The Menu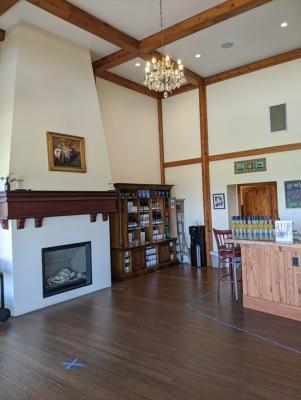 Two K's medley of crafted cider perfection will blow you away—and even as a Leelanau resident who takes frequent advantage of the amazing wineries on this peninsula—I found myself giddy as I perused the menu.  If you are someone who likes a lot of options, you have found cidertopia here, where the menu is as sprawling as the gorgeous property. One helpful tidbit: Next to each Cider and it's ABV (alcohol by volume) is the R.S. percentage, which stands for "residual sugar." So if you like your ciders on the drier side, stick to the top of each of the three series: Heritage, Specialty, and Lee Point.
I went with the tasting flight (5 for $7) ordering four ciders and their Riesling, which was lovely, though I later found myself wishing I'd tried an additional cider instead. My advice is to order a glass of Riesling or Rosé if your mood calls for wine; otherwise, it's best to plunge fully into all this promised land of cider has to offer.
The Experience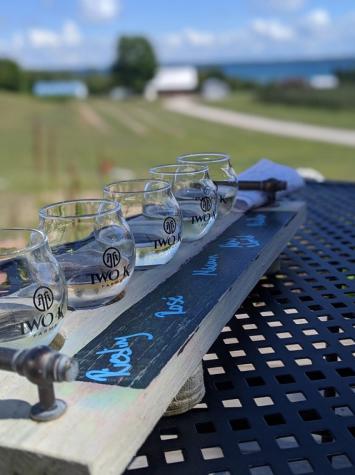 In case the menu doesn't clue you into the true craftsmanship that pours into these ciders, you can visibly see the difference when they're served. Rather than the zesty, knock 'em back ciders you might be accustomed to, these are true sipping ciders, meant to be experienced much like wine.
My personal favorite was the Leelanau Radler. It reminded me of a grown-up version of a sour apple jolly rancher… not quite as sour-intense, but the lemon-infusion turns the tanginess up a notch while the elderflower rounds out the lemon with a nice earthy sweetness. It's hands down the most interesting cider I've ever tried. The Rosé cider came in as a close second, and I quickly found myself suggesting to the server that the aroma alone is worth bottling.
As for your seating pleasure, there is plenty of opportunity for social distancing (as well as cuddling), and the terraced seating choices are numerous. Grab an Adirondack chair right on the wide covered porch, a table (some with umbrellas) on the open patio to the south, or enjoy more semi-covered seating on the third deck a few steps below, which also offers the comforts of a fire pit with your view. Or, mosey down to the yard for a game of bean bag toss.
The View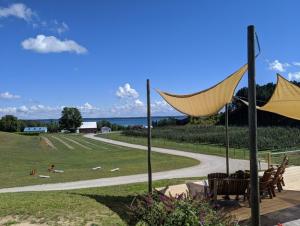 Nothing short of heavenly, Two K Farms is my new favorite place to soak in the green and blue views of Leelanau in a relaxed-as-you-please kind of way. You'll love the clean, woodsy farmhouse charm that gives way to an expansive view of the rolling vineyards, grass, and orchards that unfold before the blue bay horizon. It's truly charming, and yes, you will blink twice.
Two K Farms is located at 3872 SW Bay Shore Dr., in Suttons Bay. Come as you are 7 days a week, starting at noon.