What's better than a destination race to the "Most Beautiful Place in America"? Here's a list of upcoming 2022 events for those looking to visit the Sleeping Bear Dunes and tackle a PR at the same time! (Or, let's face it, sign up, barely finish and get a cool t-shirt as a souvenir!)
This fun run-walk is part of Empire's Asparagus Festival. Enjoy food and drink vendors like local breweries. The Glen Lake Library also does an Ode to Asparagus. Poets young and old submit their asparagus-inspired poems for a chance to be read.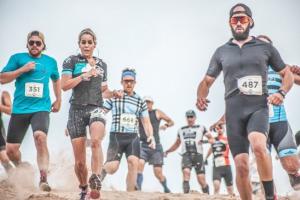 This unique run-bike-paddle event takes runners through the wilds of the Sleeping Bear Dunes park, including a run up the face of the "Dune Climb"! The event is a 2.5-mile run, 17-mile bike, and a 2.5-mile paddle (surfski, kayak, or SUP). This event always sells out within minutes, so at this point, you'll want to watch for notice of the 2023 opening up for registration via their website.
Pick from a 5k or half marathon. The half marathon takes runners around Big Glen Lake, starting and finishing near downtown Glen Arbor. Runners ascend Inspiration Point on the south side of Big Glen Lake where they will experience one of the most spectacular views of Leelanau County. The 5k course is flat and fast, and will take runners through tree-lined roads near downtown Glen Arbor. Get a finisher's medal and a bright teal SOLSTICE tee!
The 14th annual Friends of Fishtown 5K will be a hybrid event, with both an in-person and a virtual race. All proceeds go towards preserving historic Fishtown the place, the stories and the Leland fishing tradition. Starting and finishing in the heart of Fishtown in Leland, runners tackle gradual climbs and descents. Runners, walkers, strollers and leashed dogs are all welcome. This year's theme is JOY - come enjoy a JOYFUL run.
This 5k run/walk takes place on a Tuesday and starts at Cherry Republic in Glen Arbor. There is also a kids' half-mile run/walk. Ninety percent of the proceeds provide scholarships for Glen Lake School seniors. Watch for people dressed up like bears running the race! And be sure to pre-order your souvenir race tee with a fun and funky bear on it!
Run or walk to support the preservation of Port Oneida and the other historic areas of over 200 historic buildings and landscapes in Sleeping Bear Dunes National Lakeshore. Choose from one of the three courses: Farmers Flat and Fast 5K, Homesteaders Hardcore 5K, and Tiller's 10K. Each course winds through the beautiful scenery of Sleeping Bear Dunes National Lakeshore's Port Oneida Rural Historic District, just down the road from Pyramid Point. Enjoy the park – bring your blanket or lawn chair to relax after your run or hike.
This brand-new event features a 5k in the beautiful landscape of French Valley Vineyard in Cedar. Registration includes a t-shirt, a shatterproof wine glass, a finisher's medal, and – of course – a pour of wine. What's not to love?
Pick from a marathon, half marathon, or 5K run/walk in the heart of the Sleeping Bear Dunes National Lakeshore. All races start and finish in Empire. The out-and-back marathon course will take runners by the "Dune Climb," past Little Glen Lake, and through the village of Glen Arbor with breathtaking views of the Manitou Islands and Sleeping Bear Dunes along the way. Register early to be sure to get a race t-shirt!
With all of these events to pick from, make your plans (may we suggest lodging at The Homestead!) and come see why Good Morning America calls us one of the most beautiful places in America!