Have you ever sat under a starry sky? Of course, you have. But have you ever done it on the world-famous Sleeping Bear Dunes under a sky that never seems to end? Get ready - because this summer there is going to be a Star Party every month at the Dune Climb!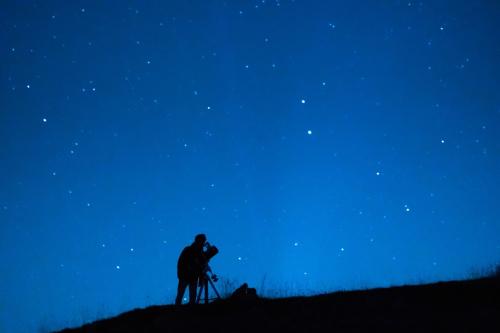 Join Park Rangers and the Grand Traverse Astronomical Society (GTAS) for these monthly guided explorations of the night sky. Events will include stargazing, eclipses, meteor showers, sun-viewing, and storytelling.
There will also be drop-in telescope and information stations available for people to use, with park rangers and staff in red glow pins and bracelets to help answer questions at each event.
Bring your own chairs and blankets to get comfy, and don't forget extra blankets to cover up with – there will be dew in the air as the night cools off. Be sure to also bring a flashlight for the walk back to the car and bug spray is never a bad idea! Snacks and water are a must for a fun night together with your loved ones and little ones. Remember to pack out everything you pack in.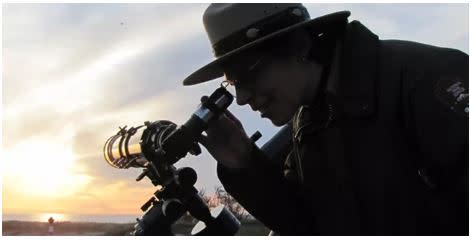 The National Park Service (NPS) noted: "These events are the perfect opportunity to 'Find Your Park' in the stars. Starry night skies and natural darkness are important components of the special places the NPS protects. National parks hold some of the last remaining harbors of darkness and provide an excellent opportunity to experience this endangered resource."
The 5 Star Parties are from 9-11 p.m.:
Saturday, April 29
Saturday, May 27
Saturday, June 24
Saturday, July 29
Saturday, Aug. 19
The events are free. Participants need to purchase the park entrance pass or have an annual pass displayed in their vehicle. You can buy a pass at the Dune Climb entrance station from Memorial Day and after, or at the Philip A. Hart Visitor Center in Empire (beware they close at 4 p.m. now and later in the summer, 6 p.m.).
Directions to the Dune Climb, are here. At the Dune Climb, please park in the row furthest from the dunes with headlights facing M-109. Volunteers will be assisting with parking.
Programs will be canceled if the sky is not visible due to weather conditions. The decision to cancel is usually made two hours in advance. Please call 231-326-4700, ext. 5005, for a voicemail message with the decision.
You are in for a truly memorable night under the stars! Join us!