This wine season may look a little different, with wine by the glass, flight, or bottle rather than more traditional tastings, tasting reservations required in advance, designated seatings, and smaller groups—All designed so you can sip safely. But one thing is for sure: don't let anything stop you from taking in some breathtaking scenery and lip-smacking wine this season. Just don't forget your sunscreen and mask (the latter of which you'll need to order wine inside the tasting room if that's an option).
For Your Safety: Please note that winery staff are generally pre-screened for COVID-19 before each shift, socially distancing as much as possible, practicing frequent handwashing, wearing masks while serving/preparing wine or food. Cleaning and sanitizing of high-touch, high-traffic areas is also routinely practiced.
MAWBY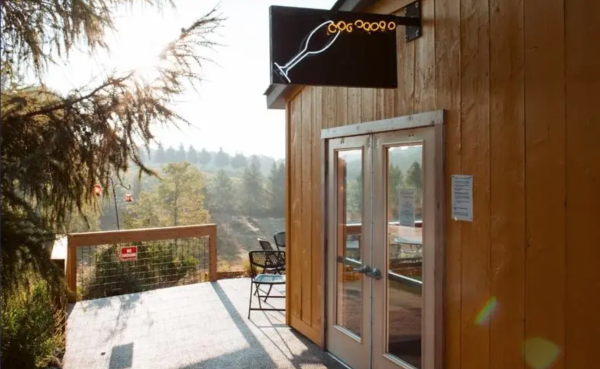 The new menu boasts the best of MAWBY, from their estate-grown, gold-medal-winning Talis Brut (a Chardonnay, Pinot Noir, Vignoles, and Riesling blend) to their easy-breezy canned bubblies infused with tea, plus charcuterie, cheese and crackers, and nuts to pair with your choice of bubbled beverage. MAWBY is sure to be a refreshing experience for all of your senses during a warm northern Michigan afternoon.
Even if you can't squeeze Mawby into your schedule, this is a great one to pick up at a local store.
On the Menu: Pre-selected tastings; Note more in the description above
Groups: 6 people or fewer
Reservations: Required. Book here.
Pet-Friendly: YES
Kid Allowed: YES
Summer Hours:
Monday - Saturday 12 - 6 pm
Sunday 12 - 5 pm
AURORA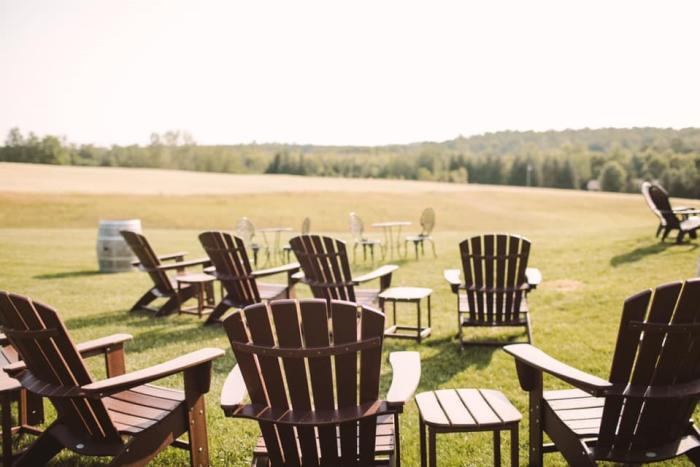 Don't overlook Aurora while you're exploring the beautiful Leelanau Countryside. The spacious patio sits adjacent to a sprawling sea of green grass, which backs to the vineyards and overlooks a forest that seems to go on forever, making this a perfect picnic place. And this season, you can bring your own food!
Even if you're just stopping in for a relaxing glass of wine, sink back into a relaxing Adirondack chair and sip away. This feels like true Michigan wine country.
On the Menu: Wine by the glass, including the debut of their newest varietal Grüner Veltliner (pronounced grooh-ner velt-leehn-er or simply "grooh-ner" if you want to sound both simple and sophisticated). You'll especially enjoy Grüner if you're into whites like Sauvignon Blanc.
Groups: 6 people or fewer
Reservations: Required for tastings. Book here for $10 per person (5 tastings each), up to six people. No reservations for wine-by-the-glass. You can also opt for the Reserve Tasting (75 minutes) which includes sit-down services with five wines of your choice and an artisanal selection of cheese, meat, olives, nuts, and dried fruit to compliment the wine.
Pet-Friendly: No
Kids Allowed: Yes
Summer Hours:
Monday - Saturday: 11am - 6 pm
Sunday: 12 - 5 pm
3. SHADY LANE CELLARS
Shady Lane is the perfect antidote to a hot summer day that calls for cool breezes and simply scrumptious wine. With winemaker Kasey Wierzba at the helm, literally every wine featured at this once stone chicken coop and farm is created and bottled with true talent and pride. Sip some Sparkling Riesling (so yummy), Coop de Rosé—a memorable Vignoles and Riesling blend with cherry and citrus notes (a Pinot Noir Rosé is also available)—or treat yourself to the unforgettable Grüner Veltliner. If the day is cool enough or you're in the mood to try some reds, Shady Lane is one of my most favorite spots for exploring a wide range of reds (try both their Franc n' Franc and Blaufrankisch and you'll be shocked that you're drinking and loving Michigan-produced reds). Grab some of their new Brio canned wine so you can bring some Shady to the beach or on a picnic.
Bonus: Shady Lane is close to Mawby for your planning purposes.
On the Menu: tasting flights and wine-by-the-glass or bottle.
Groups: 6 or fewer people
Reservations: Reserved your table here.
Pet-Friendly:  YES
Kid Allowed: YES
Summer Hours:
Monday - Saturday 11 am - 6 pm
Sundays: 2 - 5pm