It's officially a new year which means it's time to make some New Year's Resolutions.           I'm here to give you some 'resolutions' that you won't dread or put off until December. Here are 22 things you can do in Leelanau County in 2022— for every season.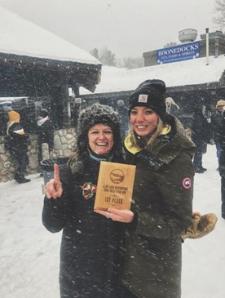 1. Glen Arbor Chili Cook-Off
The annual chili cook-off is like a local holiday. Local businesses compete against each other in hopes to make the best chili. The beloved cook-off looked a bit different last year due to covid but is back in its normal format this year. It will be held on Saturday, February 19th from noon-3 pm. It takes place on the outdoor deck of Boonedocks, so be sure to bundle up. There is always an array of tasty flavors like Buffalo Chicken, and some chili even served with chocolate! Below is a picture of the most recent winner of the chili cook-off from 2020.  Cost is $10 per person, $5 for children and seniors and proceeds benefit Glen Lake School scholarship program. Visit Glen Arbor Chili Cook-Off for more information.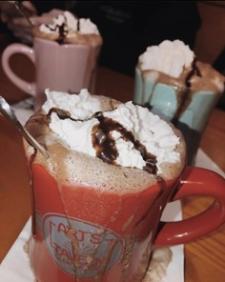 2.  Savor a hot chocolate at Art's Tavern
Art's is a local favorite restaurant and there are some things on the menu people make special trips there for—hot chocolate being one of them. Something about their hot chocolate is the perfect sweet, warm treat on a frigid winter day. Pro tip: if you're of age, order the "Peanut Butter Cup" that adds Skrewball whiskey to the hot chocolate. YUM!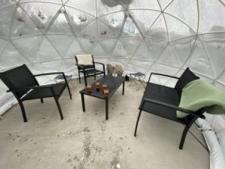 3. Reserve an igloo at M22 wine bar
Igloos became a hit sensation for restaurants in 2020 when indoor dining was temporarily shut down. But we aren't saying goodbye to them just yet. M22 wine bar has several heated outdoor igloos available for customers to enjoy a nice glass of wine throughout the winter months. It's a perfect spot to warm up and relax!  Cozy blankets are provided too!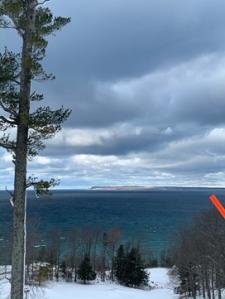 4. Ski at The Homestead
Skiing, in my opinion, is one of the best things about winter in Northern Michigan. Once you get to the top of the hill after riding the chairlift, a breathtaking view of Lake Michigan awaits. The Homestead offers ski runs perfect for any age and skill level, along with ski and snowboard lessons—so go get everyone in the family out there this year!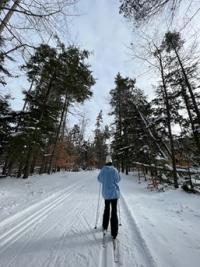 5. Cross country ski or snowshoe on the Alligator Hill Trail
I know it can be tough to leave your warm, cozy home to face the subzero temperatures, but the view from the top of Alligator Hill will make it worth it. So put on your cross-country skis or snowshoes and conquer this beautiful hike this winter.  Cross country ski rentals are available at The Homestead.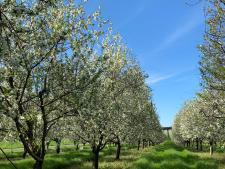 6. Tour the county to see the cherry blossoms in mid-May
When the temperatures finally begin to rise after what often feels like an eternity, the delightful cherry blossoms will begin to bloom – usually sometime in mid-May. Some roads to drive on that have the best views are County Road 633, The blossoms only last for a few days (4 to 7 after peak bloom) but if we're lucky, under ideal conditions they can last for up to two weeks.  They are fragile and unpredictable, so make sure you know when they first bloom, and don't wait too long after to go see them!     
      7. Visit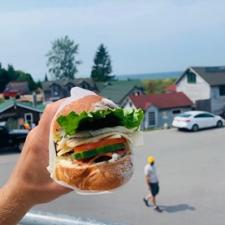 Fishtown in Leland and get a sandwich from Village Cheese Shanty
April is the magic month when local favorite, Village Cheese Shanty, reopens after a long, winter without their delectable sandwiches (the wait - brutal in my opinion). Their bread is freshly homemade every morning. Make sure you get there early though because there are limited amounts of their famous pretzel bread and sometimes hour-long waits. Yes, they are that good.  Their North Shore sandwich has been voted Red Hot Best #1 Sandwich.  I mean it when I say this sandwich might change your life.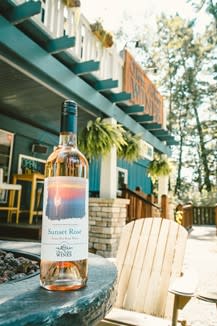 8. Sacred Sunday at Glen Arbor Wines
Glen Arbor Wines is a quaint winery located on Lake Street in downtown Glen Arbor with a warm, homey feel to it.  On Sunday mornings, mimosa flights are offered along with live entertainment. There is also a backyard area filled with fun yard games including bocce ball, badminton, and more for the whole family to enjoy.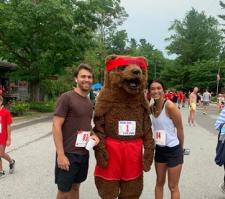 9. Run the Running Bear 5K
If you're looking for a fitness goal to achieve this year, consider running the Running Bear Run. The 5K starts at Cherry Republic in Glen Arbor and loops back around. There is also a Kid's ½ mile run available. The race that takes place this year on July 26th is sponsored by the Glen Arbor Women's Club and 90% of the proceeds provide scholarships to Glen Lake Seniors with the balance going toward other charitable organizations in the community. And if you're looking for an even bigger challenge, there is also a scenic marathon, half-marathon, and 5K in October called the Sleeping Bear.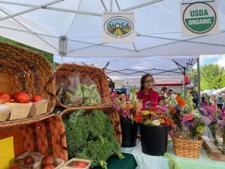 10. Go to farmer's markets across Leelanau County
One of my favorite summer activities is visiting the local farmer's markets. These markets are located across the county on different days, so you can visit them throughout the week. The Glen Arbor farmer's market is on Tuesdays, Leland on Thursdays, Northport on Fridays, Sutton's Bay on Saturdays, and in Empire on Saturdays. These farmer's markets offer a wide array of goods ranging from locally grown produce to beautiful hand-crafted jewelry.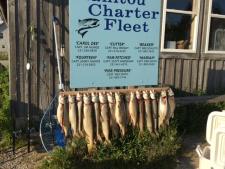 11. Charter Fishing out of Leland and Glen Arbor
If you're looking for a fishing experience in the Great Lakes but don't have a boat, consider doing a fishing charter. Fishing charters are the perfect opportunity to catch some fish while also being able to experience the beauty of Lake Michigan by water.  Charter boats typically offer half-day (morning or evening) or full-day trips.
For more information on charters visit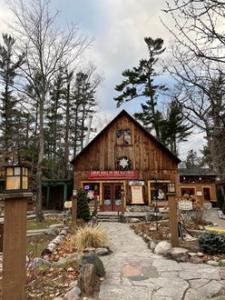 12. Visit the original Cherry Republic
The original Cherry Republic is one of the most famous establishments located in the heart of Glen Arbor. Known for its goodies ranging from chocolates to salsa, everything has a unique spin that includes cherries. You can even get lunch and dinner at the Cherry Public House next door or wine taste at their Winery. You definitely won't leave hungry!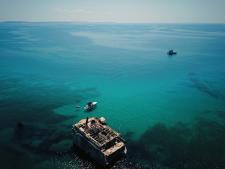 13. Ferry to South Manitou Island
Another incredible way to experience Lake Michigan is by taking a ferry out to South Manitou Island. The trip departs from Leland and takes about 1 ½ hour.​ On the ride there you will be able to see the beauty of Sleeping Bear Dunes National Lakeshore from a new perspective. When you get to the island, you can hike to the famous shipwreck, the Francisco Morazan (pictured below), and to the Manitou Island Lighthouse. Visit manitoutransit.com for more details. The Manitou Island Transit departs from Leland at the Fishtown Harbor and even runs some sunset cruises in peak summer.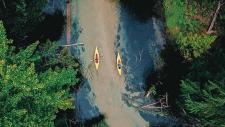 14. Kayak the Crystal River
Kayaking the Crystal River is a must when visiting Glen Arbor. Crystal River Outfitters is a local kayak shop where you can go to rent kayaks. There is a full trip and a half-trip offered. This is sure to be an experience to allow you to relax and soak in all the nature and its beauty. And don't be scared to shoot the tube!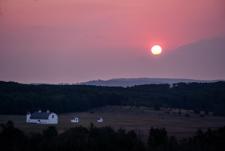 15. Hike Sleeping Bear Dunes during sunrise
One of my most cherished memories from past summers is waking up at 5:45 am and heading over to the Dune Climb to hike up as the sun rises. We are blessed to have so many beautiful shoreline sunset views in the summer, but this means limited sunrise views. Being almost a bigger advocate for sunrises than sunsets, I was determined to find the best place to watch the sunrise. The dune climb is definitely it.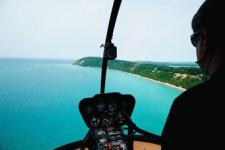 16. Helicopter Tour of Leelanau from Cherry Capital airport
If you're looking to splurge a bit on a fun adventure this year, a helicopter ride is just the thing to do. Last summer I took the "Sleeping Bear and Beyond" helicopter tour that takes you over Grand Traverse Bay, Old Mission Peninsula, the coasts of Suttons Bay, Leland, Sleeping Bear Dunes, and Glen Lake. This was truly the most incredible experience I've ever had in my life and I would recommend it to anyone. Seeing the places you know and love from above makes it all seem even more incredible. Visit TCHelicopters.com for more tours and information.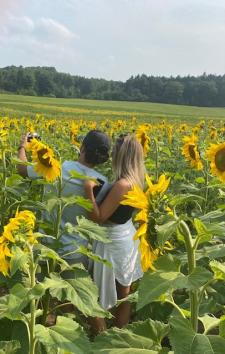 17. Walk through the sunflower field on M204
In late August, you can expect the sunflower patches to be filled again with vibrant, and extremely tall, yellow sunflowers. There are several sunflower fields in Leelanau County and Traverse City that you can visit to get that perfect summer photo. Walking through them feels like a field of dreams and is a place to let your cares float away and feel like a little kid again.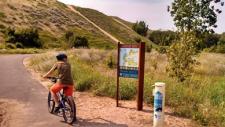 18. Bike the Heritage Trail
The Sleeping Bear Heritage Trail is a bike trail that runs all the way from 669 Beach in Maple City to Empire. This is a great way to get in some exercise while enjoying the uninterrupted beauty along the way. Bikes rentals are available at The Homestead and Crystal River Outfitters.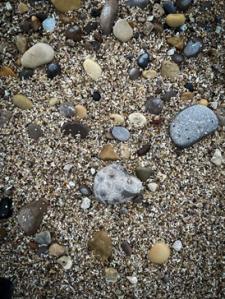 19. Beach Combing for Petoskey Stones
Imagine walking through the rocky shore of Lake Michigan, your bare feet in the chilly water. All of a sudden you come across a rock that looks different than the others. You submerge it in the water a bit more, examine it while looking for a webbed print (six-sided corallites), and—it's a Petoskey stone! You've finally found one! The accomplished feeling of finding a Petoskey stone is one almost every Michigander knows. They can be tricky to spot, which makes finding them even more satisfying. A local tip is to go Petoskey hunting in the Spring. The waves from the winter winds tend to wash up new stones to the shores. Good luck!
(Note: Petoskey stones are prehistoric and unique to the Great Lakes.  They are also Michigan's state stone.  It is illegal under federal law to remove Petoskey stones from the National Lakeshore.  So have fun hunting and leave what you discover for others to enjoy!  For more information visit here.)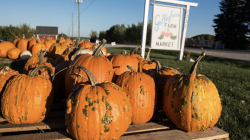 20. Visit Gallagher's Farm for apple cider & donuts
There's nothing better than enjoying a cup of hot cider alongside a freshly baked donut in the heart of fall. Gallagher's on M72 is where you can find every fall essential. From pumpkins to fresh pies, to apples, Gallagher's is sure to deliver you all things fall.  And, the fresh-baked homemade pumpkin donuts are a MUST try!  Life-changing, like the North Shore.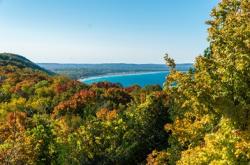 21. Take a color tour of the county
A great way to see the stunning colors the fall season brings in Northern Michigan is to go on a color tour. Hop in your car and take M22 for as long as you like to see the county covered in vibrant red, yellow, and orange. Be sure to stop at some of the wineries along the way for some more great views and tasty drinks!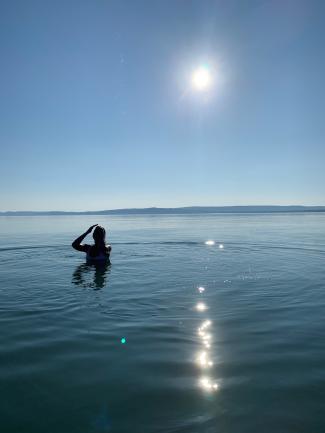 22. Go jump in Lake Michigan!
If there's one thing you do from this entire list—let it be this!  It's brisk, it can be chilly, but it's fresh, invigorating, and some of the clearest what to enjoy.  It will remind you of the Caribbean, sans the salt.
These are just a few ways you can take a piece of Leelanau County with you from your visit. I hope you enjoy everything this spectacular place has to offer.
Photos by: