What's happening in the region this year? Well, with fingers crossed, most events are back in one form or another! Here's a rundown of what to expect this summer:
The festival committee just announced they are, despite earlier decisions, bringing back the concert stage for 2021. Acts include a Traverse City favorite, country act The Drew Hale Band on July 5. Also, this year, unique to 2021, the DTE Energy Cherry Royale Parade Experience will be held Saturday, July 10 with a twist: Enjoy this parade by driving past floats at the Grand Traverse Resort and Spa. This "reverse" parade-style will help celebrate cherries safely!
New this year, also, is a virtual "Cherryarama Bike Trek" – bike Traverse City with the family and enjoy a scavenger hunt at the same time. There is no air show this year, but the beer tent will be back – with something more like a beer "area" to help people spread out some. The Festival of Races (from 5k, 10k, 15 k, and half-marathon lengths) will be held Sat., July 10, with both in-person and virtual options.
Some things remain the same: The Open Space will host activities such as Ultimate Air Dogs and bingo; Arnold's Amusement Park will be flying high at the Corner of Grandview Parkway at Union Street; kids' events will run daily at F&M Park, and 4th of July fireworks will light up Grand Traverse Bay. Plus, there will be a Cherry Farm Market at the Open Space with local products from The Cherry Stop, Sleeping Bear Farms, Naturally Nutty, and more!
Throughout the week, one delightful holdover from the year of Covid will remain: There will be "Porch Parades," where downtown homeowners compete for the "best use of cherries" in their décor!
The Polka Fest is back – with a date later in the summer – and will host its traditional four days (and nights!) of polka dancing, polka food and polka heritage in the tiny town of Cedar. 
This is one of very few polka festivals left in the United States and marks their 39th year. The Polka Festival has become a signature event in Leelanau County – a must-do for many families who return year after year.
This year marks the first- ever festival race event, The Cedar Polka Fest – Run 4 The Kielbasa – You Never Sausage a Race! Aug. 28 at 8:30 a.m. This 4-mile event begins and ends at the Polka Fest tent and includes a pancake breakfast for all participants.
Another new addition this year is the "First Responder Appreciation Night" on Aug. 26 at 5 p.m. The event opens with a first responder blessing, and free admission from 5 to 11pm for police, firefighters, EMS workers, and 911 dispatchers. This event was planned for the canceled 2020 event, and carries even more meaning this year!
Participants can also enjoy a Classic Car & Motorcycle Show on Aug. 28 from 9 a.m.-noon, followed by the Cedar Polka Festival Parade from 1-2 p.m. Sunday includes mass under the tent and also – a new Cornhole Tournament. Other possible additions are a Craft Fair and Farmer's Market, watch for news on that!
Harry Connick, Jr., Chicago, and Jake Owen will headline the return of 6 in-person public performances at Interlochen's Kresge Auditorium this summer.
The 2021 performances include:
Chicago, Tuesday, Aug. 3, 7:30 p.m.
Harry Connick, Jr. and his Band: Time To Play!, Tuesday, Aug. 10, 7:30 p.m.
The Greatest Hits of Foreigner, Saturday, Aug. 14, 7:30 p.m.
Jake Owen, Thursday, Aug. 26, 7:30 p.m.
Old Crow Medicine Show with Special Guest Molly Tuttle, Saturday, Aug. 28, 7:30 p.m.
Buddy Guy with Robert Randolph & The Family Band, Sunday, Aug. 29, 7:30 p.m.
While Arts Camp 2021 student performances will be closed to the public as part of health and safety protocols, many will be live-streamed at interlochen.org/live. As always, concerts by the World Youth Symphony Orchestra, the Camp's flagship musical ensemble, will be broadcast live on Interlochen Public Radio.
Proceeds from ticket sales for Interlochen performances fund scholarships for young artists to attend Interlochen Arts Camp and Interlochen Arts Academy. The 2019 Interlochen Arts Festival raised more than $750,000 in need-based scholarships, making the Interlochen experience accessible to hundreds of students around the world. (Due to the COVID-19 pandemic, the 2020 Interlochen Arts Festival was canceled.) Tickets are available on their website.
The Village of Northport is thrilled to host the Northport Fireworks. Nothing says summer like a day on the beach, a hand-scooped ice cream cone, and 4th of July Fireworks. Meet on the lawn of the Marina at Bay Front of Haserot Park with lawn chairs, pop, and snacks to celebrate. The fireworks start at approx. 10 pm on Sunday, July 4th. View the Northport Map to find your perfect spot!
"Let Freedom Ring" is the theme for this year's Independence Day Celebration activities in downtown Beulah. The events are tentative but currently include the 5K Firecracker Run at 8 am in Beulah Park, kids' games in the park, face painting, food concessions in the park, a parade at 1:30 pm, and fireworks at dusk. Call 231-383-1120 for more information.
The Flag Raising Ceremony, hosted by the local VFW, begins at 10 am on Saturday, July 3, 2021, at the Old Settler's Park on South Dunn's Farm Road (County Road 675) in Maple City. Come celebrate the founding of our nation in a patriotic, joyous ceremony with community members of all ages. The Flag Raising is performed by members of the local VFW. Flags are distributed to all children, and cookies and lemonade are available following.
The 59th Fourth of July Parade, from Glen Haven to Glen Arbor, will be held Sunday, July 4th at noon. The Glen Lake Chamber of Commerce website notes the following which says it all: "No organization is in charge of this parade: It's simply a bunch of Americans showing their gratitude and patriotism in an old-fashioned, small town way. This parade celebration would not work without our volunteers, sweepers. Thank you, America, paraders, volunteers, Glen Lake Fire Department, Sheriff's Dept. and supporters."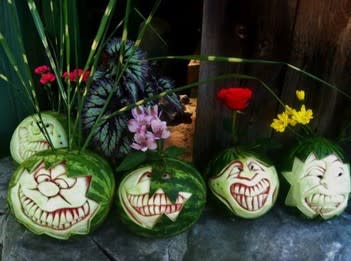 Also on Sunday, July 4, "The Lord of the Gourd" returns to Cherry Republic in Glen Arbor from 1-5pm. See the carvings – of watermelons! – and enjoy a a plethora of cherries to celebrate summer.
Enjoy this annual old-fashioned carnival July 1-5 in Frankfort, with games, rides, and food at the Open Space Park on Betsie Bay. Sunday, July 4th includes the Carnival (10am-10pm), Art in the Park (10am-5pm), the Sand Sculpture Contest (noon - 3pm), and fireworks at dusk over the bay (approx. 10:30pm). There will be no 4th of July Parade this year due to road construction.
Happy Fourth of July!