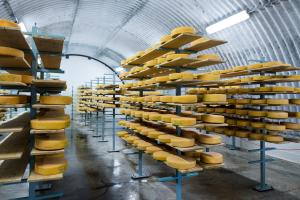 Over the past 25 years, Leelanau Cheese and its founders John and Anne Hoyt brought the Swiss alpine tradition of raclette to Leelanau County, in the process building a cult following for the rind-washed, cave aged delicacy that is traditionally served melted over potatoes, cornichons or crusty bread.
New managing partners Joshua Hall and Gary Smith are now increasing supply to keep up with a demand they credit to a special making process that has earned the cheese multiple awards including a "super gold" at the World Cheese Awards.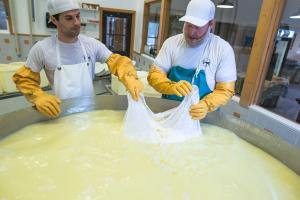 The making of Leelanau Cheese raclette starts, says Smith, with a trip to a Michigan dairy farm partner, Boom's, where they fill a milk tanker then return to pump it into their cheese vat. The team inoculates the milk with cultures that impart the flavor, add an enzyme, cut the curd, remove it by hand, mold it, press it and place it in an aging cave for brining and daily washing for three weeks. After that, they spend three to six months flipping and washing the wheels before it's ready for sale. The new cheesemakers, now a year into the business, also create a creamy fromage in various flavor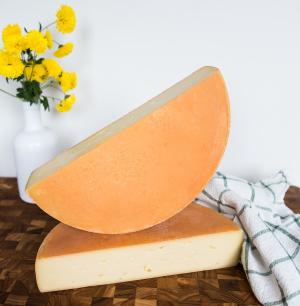 combinations and have added hand-cut cheddar curds to the lineup.
They have plans to make a gouda, a natural addition since it was a specialty of Hall when he was the head cheesemaker at the Michigan State University dairy (where Smith was a food safety expert).
But the raclette will remain a staple. You can try it melted as appetizer or meal at Martha's Leelanau Table in Suttons Bay, sample the curds at the nearby VI Grill and try the fromage on popular Village Cheese Shanty (Leland) sandwiches like the "Leelanau" and "Carp River."
For these and more stories about the region, contact Sleeping Bear Dunes Visitors Bureau to receive their seasonal vacation guide.