The snow has finally arrived and Leelanau is showcasing two of its best qualities: snow-covered orchards and their harvest! Several wineries in the area offer snowshoe and cross-country ski trails, which makes for a perfect weekend getaway up north – we hope you'll join us in the white, fluffy stuff!
45 North Vineyard and Winery, Lake Leelanau
Head to Lake Leelanau for a perfect trifecta: snowshoeing, wine, and igloos!
Their 3-mile trail starts at the tasting room and wanders through the lower vineyard before climbing into the top vineyard. You can snowshoe, hike, fat bike, or xc-ski the multi-use trail. (And, if you get tired, there's a shortcut back to the winery!) They have trail reports on their Facebook page here, and the trail is free to use and open during business hours.
Back at the winery, you can enjoy their hand-hewn, post and beam barn tasting room, with fun touches like "Holstein cowhide" chairs and rustic décor. Or, enjoy their outdoor covered deck and firepit – where reservations are not required and room is plentiful. And for a new bit of fun, book a warmup in their igloos.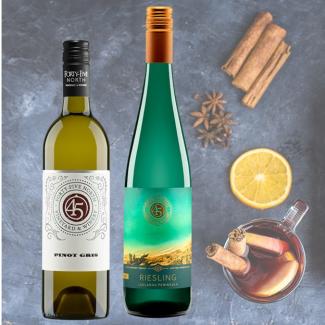 Reservations aren't required but encouraged for igloos. You can book one here.
And don't forget the wine… and may we suggest something new they are doing?
They now sell kits to make your own Mulled Wine at home! The bundled price includes two bottles of wine, 2016 Pinot Gris and 2017 Skin Fermented Riesling, and a pack of spices along with their recipe. Perhaps sample a flight of wine on site, and then take home a kit to enjoy and create with later! You can order kits online here.
Black Star Farms, Suttons Bay
Black Star Farms hosts "Snowshoes, Vines & Wines" EVERY Saturday through the winter, in addition to two Sundays, Jan. 16 and Feb. 20.
This is a chance to take in the woods, orchards, and vineyards on the iconic estate while beautifully blanketed in snow. It is absolutely stunning!
The events are weather permitting, and no reservations are needed. They also offer onsite snowshoe rentals from 12-4 p.m.
Once you're done tackling the easy to moderate trails, enjoy wines and mulled cider by the glass, wine flights, spirit flights and house-made chili and soup from the Hearth & Vine Café  in the tasting room (the café is closed for the season).
Have your own snowshoes?  You are welcome to explore their beautiful trail system anytime!
Blustone Vineyards, Lake Leelanau
The BlustoneTrail is now open! Enjoy a snowshoe or cross-country ski around the vineyard and be rewarded with panoramic views of the Lake Leelanau valley. This trail is packed and rolled for easy navigation. If you don't have snowshoes, Suttons Bay Bikes rentals run $25/day.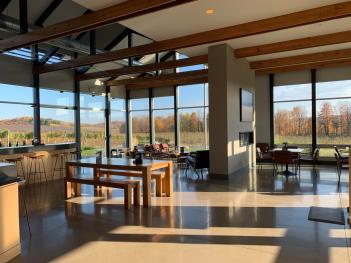 When you're finished, warm up around the firepit outdoors – or in Blustone's spacious indoor seating area – with a steaming mug of mulled Ad Lib.
Their website describes it as: Meet Ad-Lib, our "casual red wine" that doesn't take itself too seriously. It says what it wants, when it wants to. A red blend of several Leelanau varietals with an off-dry finish, this wine is extremely versatile.
This winery was named after Leland Blues stones – a product of a local iron smelting operation in the 1800's. Leland Blue is the natural calcification of impurities that were discarded from the operation and thrown into Lake Michigan. This beautiful blue stone can only be found walking the beaches of Leland and is a symbol of Northern Michigan.
Rove Estate, Traverse City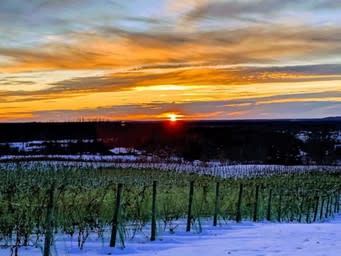 Snowshoe Rove's self-guided vineyard trail and scope out the panoramic views of the peninsula – it's a photo opp and takes your breath away! You can either do loops around the vineyard or take the path in the woods to Rove Point, the highest point in Leelanau County.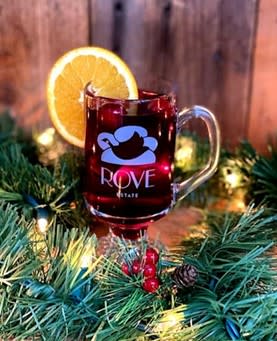 After, warm up by the fire with Rove's Hot Winter Sangria in mugs (available Friday-Sunday during the winter). Rove offers solo fire pits for social distancing and a wide variety of wines from their fifth-generation farm.
Also! Come out on Jan. 23 for Sip & Sled at Rove Estate. Rove will offer complimentary hot chocolate for little ones and Happy Hour specials for the adults. You can sled or snowshoe – bring your own gear and enjoy a day outdoors!
And don't forget the ever-ready Leelanau Trail which offers a groomed xc ski experience. Many locals will ski up to a winery for a drink and home again. For an actual tour, consider the Sip & Ski Events held on Feb. 6 and March 6. Ski the Leelanau Trail from Shady Lane Cellars to Farm Club!
The adventure starts with tastes of Shady Lane Wines before heading out on the trail. Ski the 3.9 miles to Farm Club. The Leelanau Trail is mostly flat and groomed, so conditions are good for all levels of skiers. Once you arrive at Farm Club you will warm up with their famous Bon Fuego, a slow-fire-roasted stew from all local ingredients. Also enjoy one of Farm Clubs' hand-crafted beers, ciders, or wines. Included in the tour is transportation back to Shady Lane Cellars. Tickets are available online.
Weekend Lodging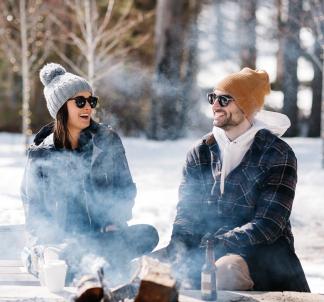 If you're looking to make a weekend out of it, check out The Homestead, a resort in Glen Arbor for a variety of lodging options (and snowshoeing!) in the heart of Sleeping Bear Dunes National Lakeshore. If you've only been here in the summer, we promise you that the stark, gorgeous view of sand and snow is unforgettable. The Homestead offers downhill skiing, Nordic skiing, and snowshoeing.
And the wine? Try Nonna's at the resort, where they feature raclette melted in the fireplace and served tableside – available only during the winter. The restaurant offers classically-inspired contemporary Italian cuisine prepared with the freshest local ingredients with a full bar service and boutique wines. Enjoy the quaint three-level, timber-framed structure with natural stone fireplaces, a chef's table, two intimate dining areas, and a warm and welcoming loft.
As winter makes Northern Michigan a wonderland, we hope you'll come out and play with us