Winter surfing on Lake Michigan…a new Leelanau trail for cross-country skiers…the winner of Sleeping Bear's "kid's art contest" and more. Check out links to these stories and more in this roundup of stories from around the web.
Holiday Snowshoe Hikes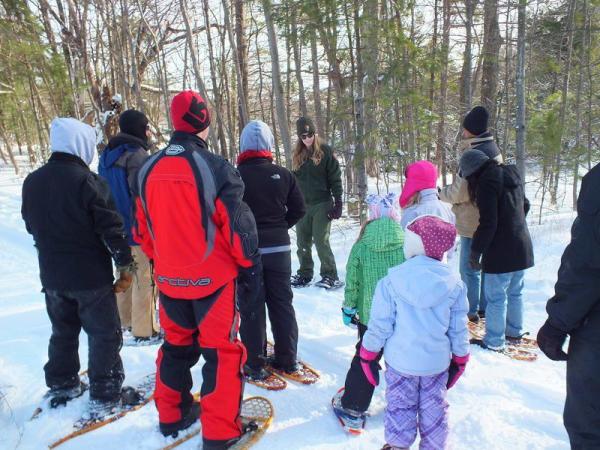 [source: record-eagle.com]
Thanks to all the early winter snow, Sleeping Bear's free, ranger-led snowshoe hiking program is getting started a little earlier this season. According to a report last week in Traverse City's Record Eagle, guided snowshoe hikes through the lakeshore are taking place December 28th and December 31st at 1 p.m. Hikers will start from the National Lakeshore's Philip A. Hart Visitor Center in Empire, and reservations are required. "Holiday Hikes" kick off the snowshoe season for the park, which will begin their weekly hikes starting January 7, 2017. Click here to read more.
Special Snowshoe Hike Program For Fourth Graders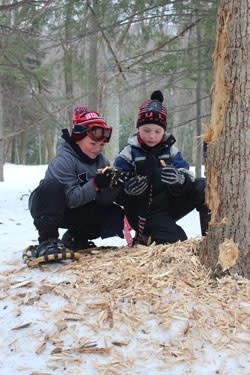 [source: friendsofsleepingbear.org]
And speaking of snowshoeing at the Lakeshore…the nonprofit Friends of Sleeping Bear Dunes and the National Lakeshore were selected to receive grants from the National Park Foundation and the North Face Explore Fund to support the Lakeshore's 2017 Winter Snowshoe Hike Program. The NPF grant is part of the Open OutDoors for kids program. The North Face Explore Fund will provide transportation costs, snowshoe repair and classroom materials while the NPF grant provides Lakeshore ranger staff and classroom materials and transportation costs for school groups. The program is free to 4th graders.
According to the Friends of Sleeping Bear Dunes' news release—click here to read it—the Lakeshore will be offering these personalized snowshoe fieldtrips in the months of January, February and March. Students will learn about winger ecology and son science in a hands-on, experiential format while hiking on snowshoes through trails at Sleeping Bear Dunes. 
Leelanau Conservancy Announces Winter Hikes, New Ski Trail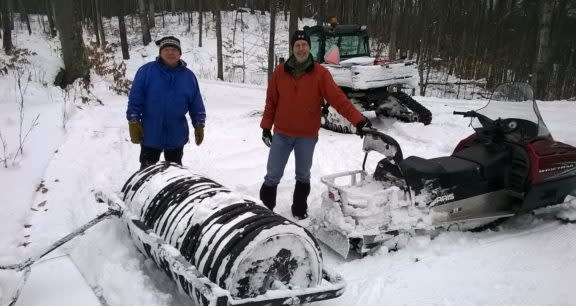 [source: leelanauconservancy.org]
Thanks to a partnership between Leelanau Conservancy and Friends of Sleeping Bear Dunes' team of trail-grooming volunteers, there's a new cross-country ski trail in Leelanau County this season. The 3.5-mile trail in the new, 707-acre Palmer Woods Forest Reserve is located about a mile from Big Glen Lake. Click here for more information and directions.
Leelanau Conservancy also released 2016-2017 winter dates for its guided hikes that begin Monday, December 26th at Clay Cliffs Natural Area. These winter walks through the Conservancy's most popular preserve and natural areas are currently planned out until February. Click here to check out the schedule.
Surfing On Lake Michigan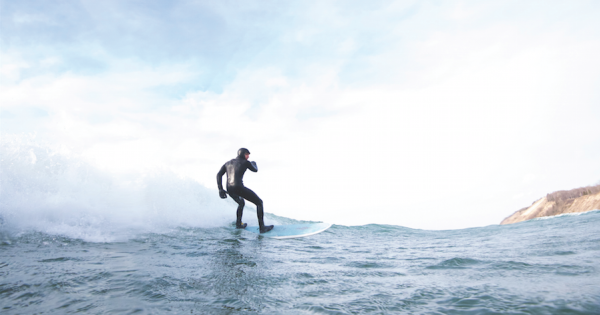 [source: mynorth.com/Daniel Shepler]
Crazy at it sounds: winter surfing on Lake Michigan is a real thing, writes mynorth.com's Daniel Shepler. Shepler teamed up with Jake Therrien and Sleeping Bear Surf and Kayak in Empire, and in this fun article writes about the adrenaline rush and special gear needed for winter Lakeshore surfing.  Click here for the full story.
Art Contest Winners Announced
Sleeping Bear Dunes National Lakeshore announced in December that Luke Gallagher—a 5th grader at St. Mary's School in Lake Leelanau, Michigan—is the winner of this year's kid's artwork contest. The National Lakeshore sponsors this regular contest in continued celebration of the "Every Kid in a Park" program. Winning images are then used for the front of the park's annual entrance Pass. Luke's drawing—which will appear on the 2017 pass—depicts the covered bridge that is located along the Pierce Stocking Scenic Drive in the park. Runner-up went to Fiona Moord, a 5th grader from Leland Public School in Leland, Michigan. Fiona's color drawing depicts a beautiful sunset over Lake Michigan. Click here to read more.