The Sleeping Bear Dunes is hiring and the National Park Service is looking to award prizes for your unique, Lakeshore video clips. Here's the scoop on that along with a roundup of all the other top news culled from around the web.
"Storm Struck" Benefits Friends Group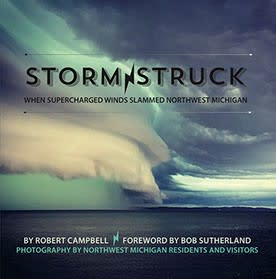 The Ticker reported last month that the Friends of Sleeping Bear Dunes had received $4,226 from Traverse City-based Mission Point Press, the group that published Storm Struck—a unique book of crowd-sourced pictures and memories from residents and visitors who witnessed the now infamous August 2nd windstorm that ripped across Northern Michigan. Mission Point donated $1 of every book sold to FSBD, whose volunteers worked hundreds of hours to restore the national park's hiking and biking trails hit by the epic storm. Storm Struck was written by Bob Campbell, a former Detroit Free Press editor and designed by Heather Shaw of Mission Point Press. Bob Butz served as caption editor. Storm Struck is available at area bookstores and online at amazon.com or missionpointpress.com.
Rangers Set Fires At Sleeping Bear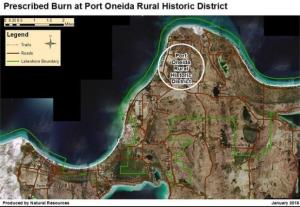 [source: MLive/nps.gov]
If you happen to see smoke billowing skyward over the Lakeshore's Port Oneida Historic District this winter, don't panic. As reported in MLive last month, rangers at Sleeping Bear Dunes National Lakeshore are planning to burn more than 40 debris piles in the Port Oneida area—piles during a landscape restoration effort and project to control invasive trees. Click here for the full story.
Sleeping Bear Is Hiring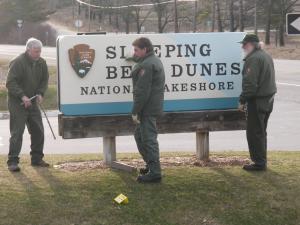 [source: nps.gov]
If you're handy with tools, like working indoors and out and don't mind a job where you never know exactly what each day will bring then maybe the Sleeping Bear Dunes has the right job for you. The Lakeshore is looking for a Maintenance worker, a fulltime time position that pays anywhere from $18 to $21 per hour. The announcement is open until February 16th. Click here for a full job description and information on how to apply.
Deadline Approaching For "Find Your Park" Video Contest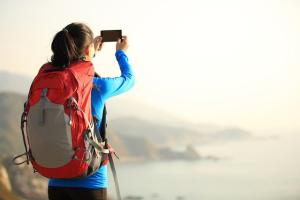 [source: nationalparks.org]
The 100th year of the National Park Service is officially underway! And in honor of the centennial, the National Park Service and National Park Foundation are looking for videos showcasing the unique ways you #FindYourPark. The "Find Your Park: Press Play" contest invites videographers of all levels to share how they explore the natural, cultural, and historical beauty within the national parks. Think distinct views, exciting hobbies, fascinating experiences, and lesser-known national parks. Think hidden gems and less-traveled trails. The deadline for entries in March 4th. Click here for a complete list of contest rules and information on how to enter.