Sleeping Bear's new superintendent, the M22 crew's list of must-do adventures, summer heat warnings for Dune Climb visitors, Sleeping Bear's amazing race and more. Here's a roundup of all the top Lakeshore news stories from around the web.
Sleeping Bear's New Leader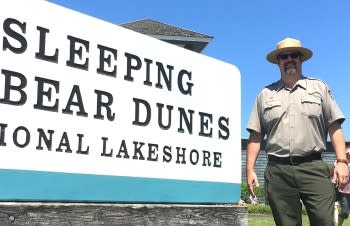 [source: traverseticker.com]
Back in April, the National Park Service announced that Scott Tucker would be taking over the position of superintendent at the Sleeping Bear Dunes National Lakeshore. The former manager of the Lewis and Clark National Historical Park since 2013, Tucker and his family officially relocated to the area last month and took the time to sit down with The Ticker founder Luke Haase to answer questions ranging from his future plans for the Lakeshore to where he and his family is currently looking to buy a house. Click here to read the whole story.
Sleeping Bear Dunes Works to Keep Visitors Safe In The Heat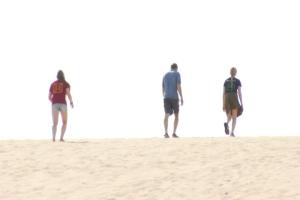 [source: 9and10news.com]
The sweltering temperatures this time of year typically result in an increased number of calls for help from Sleeping Bear visitors—particularly around the Dune Climb and the Dune Trail to Lake Michigan.  "People don't understand that it's 1.8 miles to get to Lake Michigan from the parking lot, so they just keep going and they necessarily don't have water or food, and then they get into trouble at that point," Andy Blake, Leelanau District Ranger, told 9&10 News. Park personnel are taking extra precautions to remind people to bring plenty of water and snacks if the goal is tackle the Dune Trail hike. Likewise, visitors who attempt to summit the Dune Climb are warned to have proper footwear since the sand in 90-degree weather can burn bare feet. Click here to read the whole story.
Still Time To Register For Michigan Adventure Race: Sleeping Bear Addition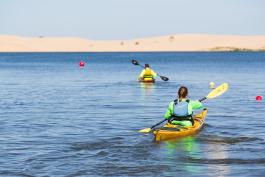 [source: visitglenarbor.com]
Registration is still open for adventure seekers looking for a unique way to celebrate the National Park Service's 100th anniversary and experience a rare opportunity to race in the Sleeping Bear National Lakeshore. The "Michigan Adventure Race: Sleeping Bear Edition" will take place Sept. 17, 2016.
In this 1-, 2- or 3-person team style triathlon-style event, participants run, bike, paddle, search for flags and conquer special challenges, much like in the popular CBS television show The Amazing Race. The goal for participants get as many checkpoints as you can in five or 10 hours; all checkpoints are optional and there are plenty of breaks to catch your breath. For more information and to register, go to miadventurerace.com.
Becoming A U.S. Citizen At Sleeping Bear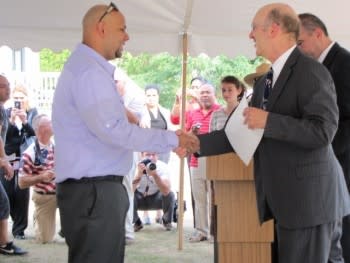 [source: traverseticker.com]
On July 21st, candidates from numerous countries became U.S. citizens at the Sleeping Bear Point U.S. Life-Saving Service Station, west of Glen Haven Historic Village. As reported in The Ticker earlier this month (click here for the full story), "the National Park Service and the U.S. Citizenship and Immigration Services have an official partnership that encourages both agencies to co-host naturalization ceremonies in these special places set aside for public enjoyment and historical commemoration." Park visitors and Sleeping Bear's new superintendent, Scott Tucker, were on hand to witness the moving ceremony.
Must-Do Adventures From The M22 Team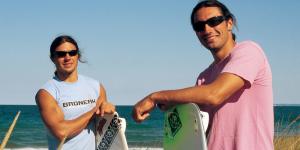 [source: m22.com]
Traverse, Northern Michigan's Magazine caught up with M22 founders and consummate thrill-seekers Matt and Keegan Myers to get their top picks for things-to-do in and around the Sleeping Bear Dunes National Lakeshore. This great list of unique activities includes everything from watching a sunset at Pyramid Point to hanging out around a bonfire at Good Harbor Beach. Click here to check it out.