We start the evening off with a glass of sparkling rosé. It's sunny on the patio outside of La Bécasse in Maple City, Michigan. At the moment, we could be anywhere, but really, none of us would rather be anywhere else. 
Maple City, a blink of a town, is in Leelanau County, perhaps one of the prettiest counties in all of the 50 states.  We sit outside and take in the warm breeze and sunshine before placing our order.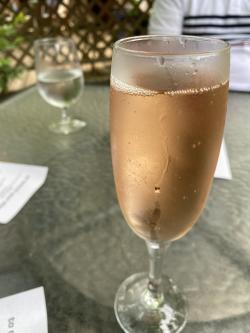 I first order a crisp, sparkling rosé. In the words of Executive Chef Guillaume Hazael-Massieux, it's impossible to frown when drinking a fine rosé. Guillaume was born in Paris but raised in the French West Indies. Twenty-four years ago, work brought him to Grand Rapids and in 2005, he bought the restaurant La Bécasse. The cuisine served here is a blend of northern and southern French cuisine. 
"I am a little blend of everything," says Guillaume, "I studied culinary in Lyon, France. Lyon is a crossroads for French food because all the big roads go through Italy, Spain, Germany, and they all meet in Lyon. So, we are a mixture of everything."
Guillaume's father was from the Caribbean and his mother was from Eastern France, "I grew up in the Caribbean," says Guillaume, "so there is also a lot of influence from there. For example, yesterday I had a pork curry on the menu, which is a traditional Caribbean dish."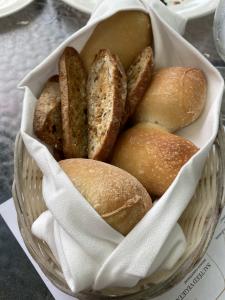 There are over 200 wines on the wine list at La Bécasse. When asked about the vibe of eating here, Guillaume says, he wants the dining experience to be fairly relaxed. "I work hard for my servers to not be over-the-top clingy. You can come here during happy hour and have some appetizers and a couple drinks, or you can come for dinner and have the whole experience. The idea is to show up happy, and when you are here, you have a lot of chances to stay happy. "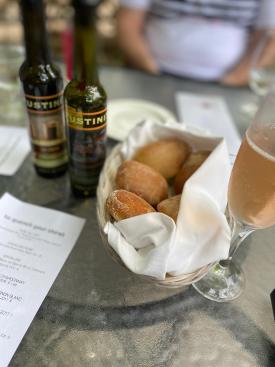 Our first course starts with a breadbasket, made up of crisp, sour-dough buns. We tear them apart and dredge them in Fustini's olive oil and balsamic vinegar, soaking up the delicious, sweet and savory oils. Then, we move on to a cheese plate made up of a blue Fourme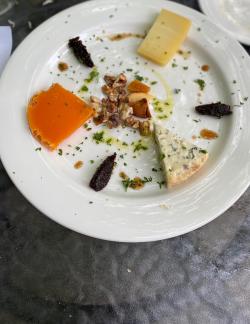 d'Ambert cheese, an aged mimolette and an aged raclette. Each piece is exquisite, not only in the sense that it is filling after only a couple of bites, but also that it is perfectly balanced between too strong and too weak—a common theme I'll end up noticing about all of the food by the end of the night. 
While speaking with Guillaume, he mentions that pâté is essentially the most French food there is. And his pâté does not disappoint. It is full and robust, made with duck liver and pork, and, as Guillaume insists on telling me, "no chicken." His secret ingredient? Brandy. The pâté  does a great job of not overwhelming the palette while still being strong enough to make it memorable.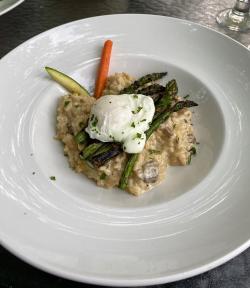 And finally, it's time for the main entrée. I order the mushroom risotto, which comes with shiitake mushrooms, asparagus and a perfectly poached egg. I break the yolk, and watch it melt over the risotto. The risotto is creamy and rich, with just the right amount of salt. Like everything else at this restaurant, it strikes the perfect balance.
Lastly, we have the crème brûlée. It's brought to us expertly burnt at the top. We crack it with the back of our spoons and then blend the crusted top with its creamy underlayer. Beneath the burnt top is a yogurt-like, smooth texture that, when mixed with the burnt pieces, combines texture and sweetness in all of the right ways.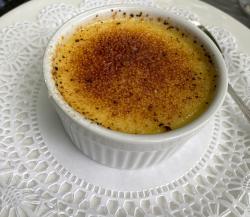 In a region like northern Michigan, where there are so many good restaurants, it can be hard to stand out. But La Bécasse does just that, due to the quality of its cuisine, the atmosphere and it's service. 
During the COVID-19 outbreak, La Bécasse is taking extra precautions to keep everyone safe. Chef Guillaume cooks with a medical mask while cooking, (even when it's 80 degrees out) and the rest of the restaurant staff wear masks and take safety-precautions as well. Before coming to work, all employees answer a questionnaire about their physical well-being, in order to detect any possible COVID-19 symptoms.
Chef Guillaume makes "maximizing people's security a top priority" and all employees sanitize and wash their hands, tables, chairs and anything touched by patrons or staff within the restaurant, with sanitizer and bacteria-killing cleaning solvent. As we sat outside of the restaurant, I felt socially distanced from all patrons, and did not feel as if I was at a high-risk of contracting COVID-19 from any of the fellow patrons. With that being said, Chef Guillaume, has not seen a drop-off in business during the COVID-19 crisis, which is a testament to the quality of his food and the level of service from his staff.
Dinner prices range from, $26-$45 dollars. And drop down to between $4.00-$10.00 for food and $2.00-$9.00 during happy hour, which ranges from Tuesday thru Saturday from 3:00to 5:00 PM.
While at La Bécasse, I found myself feeling rather full before the entree was even served. I believe the richness and quality of the small portions created this effect. By the time we had reached the entrée, I was sold. Northern Michigan is known for having an exquisite food scene, and "La Bécasse" is a perfect example of why Northern Michigan is known as a must-visit culinary destination in the Midwest.