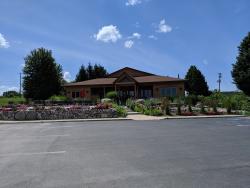 Bel Lago isn't called "beautiful lake" on a random whim. As you wind around S. Lake Shore Drive headed toward Cedar, you'll know you're approaching this seemingly unassuming tasting room as soon as you see Lake Leelanau begin to relax and stretch out its bottom half.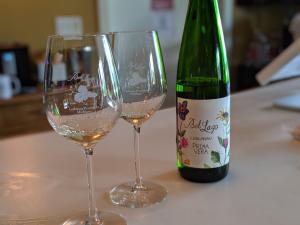 It might not be the most opulent tasting room on the peninsula (head to WOMP if opulence and not wine is what you're really seeking), but the views from Bel Lago's terrace are truly something to marvel at as you enjoy a glass of wine or cider from the garden patio that looks across the road at sweeping views of the cobalt blue Lake Leelanau.
But I don't just recommend Bel Lago for it's pretty, quintessentially rural northern Michigan blue views - or for the fact that you get to tell your friends & family you stopped at a winery called Bel Lago (seriously, what a name, right?!?) Bel Lago is where you go when you want to get serious about wine tasting.
Funny enough, you'd think a place with such amazing and award-winning wine would be at least a little pretentious. So it's even more special when you're greeted so hospitably and treated to a delicious tasting in their bright, sunlit tasting room, bordered by a sundrenched perennial garden that wraps around the front porch. If you're lucky, you'll get to chat with the winemaker Charlie, who can not share enough about the winemaking process.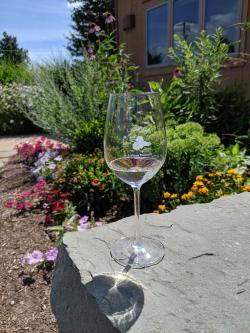 When you begin your tasting, Bel Lago is one of the few wineries in my opinion where you cannot go wrong – whether you like white, red, sweet or you're in the mood for some cider (don't pass up tasting at least one of the latter). Red lovers will rejoice in Bel Lago's impeccable Pinot Noir list, a selection of medium-bodies wines ranging from super smooth to earthy and complex - all aged to perfection in French Oak. Even if you like white wines, I recommend giving the Pinot Noir a whirl. Sometimes their menu boasts other reds you can and should try, like Sangiovese. And their Tempesta – a Cabernet Franc blend – is just lovely.
White wine drinkers truly can't go wrong either, from the Pinot Gris/Chardonnay blend and Auxerrois (both oak and steel barreled varieties) to the [slightly] sweeter wines. By the way, don't miss the Rose de Gris or the Leelanau Primavera even if you don't think you like sweeter wines because they're both really well done.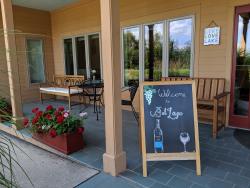 One thing that surprised me during my most recent visit was Bel Lago's cider options. I tried two: the Slim Crickets, which is a nice crisp sour variety and the Chardinator, made with 20 percent Chardonnay. Let me just say it was the first time I left Bel Lago without wine – and that's because I treated myself to a Howler! I don't normally opt for cider over wine, so this was a big win. I plan to return to try the Watermelon when it's back in stock as well as the Oak Aged (the menu boasts 7 ciders, plus the new Slim Crickets). Lucky for me, Bel Lago is just a gorgeous 15-minute drive north from my home so I will back (and back again) soon.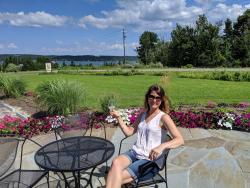 My personal recommendation for Bel Lago is divide and conquer the menu with your partner or friend by each getting your own tasting (6 for $5) and then sharing so you can taste as many of the wines as possible. Smaller sips of 12 tastes will let you better appreciate the range of beautiful wines Bel Lago is making. When you're done, grab a glass of whatever struck your fancy (if you can decide, that is) and just soak it all in on the patio. Saluti!