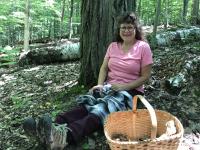 It was to be a classic Leelanau adventure. I had been salivating as Facebook friends posted photos of the golden chanterelles they'd found in the woods — and in some cases sold to local restaurants: Wren, Fig's, Alliance. Though morel mushrooms possess an undeniable mystique, the chanterelle has always been my favorite to eat, with its lobster-like texture and delicate flavor. But I'd never found one, never spotted one. So I put out a Facebook SOS: please someone, please help me fulfill one of my bucket list dreams and teach me how to find chanterelles. A friend of a friend, Kelly Harris, responded. "What are you doing tomorrow?" Answer: well I guess I'm going into the woods with a stranger!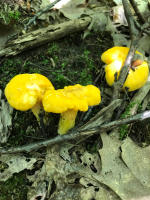 Kelly, a certified mushroom hunter, offers forest tours and foraging wisdom with her group Moonshine & Mushrooms. Visit the Facebook page and PM her. We met at the Glen Lake Community Library in Empire and headed to an undisclosed location. Kelly had found this spot in part through intuition and in part due to educated guessing. A friend of hers had told her to look around oak trees. "You're looking for the color," Kelly told me. Golden chanterelles range from a flesh tone to orange, and nothing in the woods looks quite like them. They're not as camouflaged as morels. The real trick is just finding their stomping grounds in the first place.
We were fabulously successful that day! And my supper was stuffed acorn squash with chanterelles, pancetta, and wild thyme from my backyard.
Although morel foraging, in the spring, is a famed and frenzied pastime up here, the fun doesn't have to end there. For much of the year, there are a ton of wild goodies in the forest, just waiting to be discovered and harvested. Foraging is rewarding not just from a culinary standpoint, but also as a gleeful activity in and of itself. Mushroom hunters call it "the adult easter egg hunt." And indeed when you find a prize, your heart pounds, a huge smile takes over your face, and you feel like a 5-year-old on Christmas morning. There's nothing like it.
Here are some seasonal foraging highlights, as well as some general tips for how to have an eagle eye.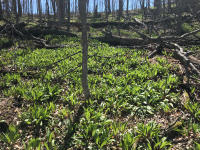 One of the most welcome signs of spring is the appearance of bright green wild ramps, which run rampant (sorry, couldn't help myself!) through the hills and valleys. The whole plant is edible. Just pluck a leaf and take a bite; it's an intriguing oniony/peppery/garlicky flavor. But what you're really looking for is the bulb of the plant, which can be pickled or sautéed and used in innumerable dishes in place of onion or garlic. I recommend a pureed ramp soup with leaves and bulbs, or a vegetable lasagna. You'll want to wait till mid-spring for the bulbs to be a decent size. Harvesting these guys isn't easy. I find that taking a shovel and digging under a ramp is the way to go, vs. trying to pull them up by hand.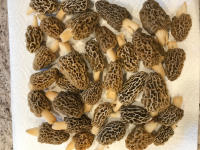 Other spring highlights include fiddlehead ferns, wild chives, dandelion greens, and yes, that m-word mushroom. Pheasant back mushrooms, which I have never found (I need Kelly's help!), are another delicacy which appears in spring. And also chicken-of-the-woods mushrooms, in late spring.
Then midsummer brings on a whole new beloved cast of characters, if you're a fungi fan. There are golden chanterelles and their relatives, yellowfoot and cinnabar chanterelles. Note that chanterelles will always grow out of the ground, and not on trees. As do black trumpet mushrooms. Their umami flavor enriches broths. 
Conversely, oyster mushrooms — which are fantastic when grilled and put on hot dogs or burgers — only grow from trees. So do mushrooms from the hericium family, such as a lion's made and bear's head. You'll find them in the crooks and crevices of fallen trees, protruding like coral or icicles. I once made pappardelle pasta with a sautéed hericium medley, and just a bit of parmesan and garlic. Mmmm.
Later in summer, there's the elusive hen of the woods mushroom, which grows at the base of trees, and which I'm also going to need Kelly's help finding for the first time. I originally knew it by its Japanese name, maitake. I'll never forget having it served tempura-fried with a lemon aioli dipping sauce at a restaurant in Sonoma.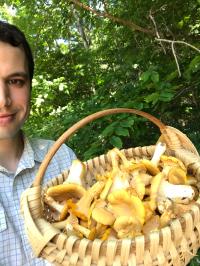 It goes without saying you never, ever want to eat a wild mushroom, or a wild anything else for that matter, unless you're absolutely sure what it is. Educate yourself, or team up with a seasoned forager. The good news is that most of the delicious mushrooms you find up north don't really have an evil twin. Morels are easy to tell from false morels: cut them open, and if they're hollow, they're most likely the real deal. Hericium species are unmistakable, and so are oyster mushrooms. Chanterelles may be a bit trickier. Before we went hunting, Kelly showed me a basket of chanterelles she'd foraged the previous day, and that was helpful…like giving a bloodhound the scent of a fugitive's clothing.
As for training your eye…I actually think a another Leelanau pastime, hunting for Petoskey stones and Leland blues, helps. I spent many hours scanning the shoreline for those treasures before I ever went foraging, and I think it honed my vision. The general idea is the same. Scan, scan, scan. Cover a lot of area. Let the prize come to you. An expert morel hunter friend of mine is utterly against digging under leaves for morels, because she thinks the morel has to find you as much as you find it. And I'd add one more tip. Keep an image of what you're looking for in you're mind's eye — in the back of your mind. An idée fixe, if you will. If you're picturing it in your imagination, you'll recognize it when you see it, and you'll filter out red herrings.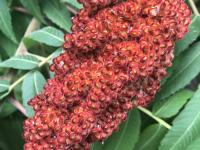 Of course, I'm leaving out a ton of things. For instance, the pomegranate-resembling fruit of staghorn sumac is peaking beautifully as I write. You can use it to brew an incredibly refreshing tart "lemonade." I would also consult the wisdom of Native Americans. A friend of mine with Native heritage brought me a special tea while I was sick with a summer flu, made from foraged elderberry, mullein, and yarrow. It was delicious, and I do feel that it helped with my recovery. There are so many edible plants and flowers about which Native Americans are way more knowledgable. So expand your circle of friends.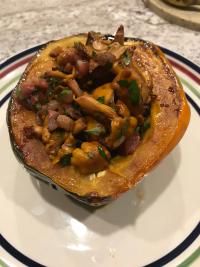 And then there's that wild thyme in my backyard, which I used in my chanterelle squash recipe. I was about to go to the store to buy herbs when my roommate said "You know, that's all thyme." And I was like, "What?" And she said "Basically our whole yard." So I plucked some thyme. And I'll tell you, it was the thyme of my life, so to speak. Much tastier than anything you'd find in a store. It just goes to show, you never know what's right under your nose. Edible treasures are everywhere. They delight the palate, thrill the hunter, lead to new friendships, and strengthen old ones. After my friend brought me that special tea, I brought her one of my chanterelle squash creations. Because that's what life is all about.