It's about 45 degrees on Lake Leelanau and I'm watching a man holding a Molson, explain to me the intricacies of an iceboating runner. 
"Feel that with your finger," he says. "But don't touch it too hard cause it'll draw blood.  This thing will get you across Lake Leelanau in fifteen minutes." 
The front runner of an iceboat varies in length and looks similar to the design of a hockey skate. The front runner is connected to the tiller, the steering component located in the "cockpit" of the boat. This device allows the pilot to maneuver the boat while sailing across frozen ice.
That day, the ice on Lake Leelanau was about six inches thick, and we accessed the lake off of a launch point that begins at the end of Hohnke Road.  There were about six boaters out on the ice, talking, making small repairs to the boats, and enjoying the camaraderie amongst each other. The group meets whenever conditions are right and keeps in contact with each other over Facebook groups and email. The club even has a boat that seats two people, where newbies can learn how to sail.
On the other end of the lake, were fast-moving iceboats whipping around a looped course at high speeds. 
That same day, there were also boaters out on Elk Lake, a lake known for having premiere ice boating conditions when the right weather and ice conditions align. One of those boaters was John Russell. If there could be an iceboat guru, Russell is it. He competes in races, has studied its history, teaches newbies in the sport, and photographs iceboaters—a sport where single-piloted, twelve-foot boats scream across vast expanses of ice at speeds that most rational people would find terrifying.
The origins of iceboating date back to the 1930s, when races were held in Lake St. Claire's Anchor Bay in Detroit, Russell said.
"Back in the 1930s during the depression, there were people sailing these iceboats, on Anchor Bay and somebody at the Detroit News had the idea to come up with a workshop to see if there was a model for a boat that people could build in their house. So, they came up with the model, DN 60, and that's the model we use still use. Today, it's everywhere," Russell said.
Iceboating eventually made its way up from Detroit to northern Michigan, where it's become a time-honored thrill. Not only a great adrenaline rush, but it also gives folks a chance to gather together in the dead of winter, on water, to enjoy the sunshine and healthy competition.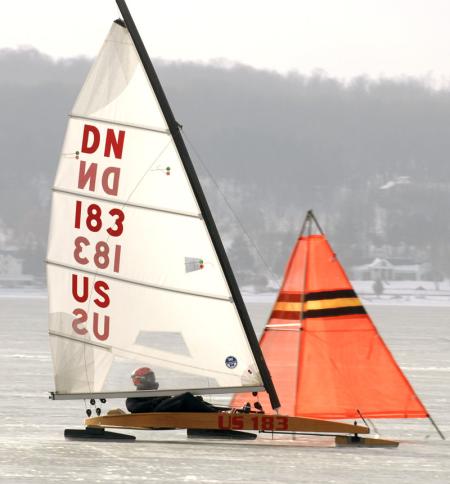 "We're like other groups that cross country ski or play soccer," Russell said. "We have Facebook groups all around northern Michigan where people can connect and plan events." One of those Facebook groups is Leelanau Cruisers and Spar-Benders, where you can join and if interested, get involved with the sport.
Detroit remains the hotbed of iceboating, at least in North America. "We used to have wood masts. But the sport has changed. The racing of these boats has become an international event," said Russell.
These days, Swedes, Norwegians, Germans, and Russians will fly to a hotel in Chicago and wait for the announcement of where they'll need to travel for the North American Championship. Montana was chosen one year, so racers—once they got the call—immediately headed out of their Chicago hotel and drove 1,200 miles to the frozen reservoir.
It's become a phenomenon that's not slowing down. 
"Now they have a huge race in Siberia," said Russell. "There is a huge lodge, and you get flown in on a helicopter. I just got an email today from the Russians telling me about their plans for the race after COVID. I can't imagine what it must cost." 
But the spirit of competition in iceboating anywhere is strong. Boaters will spend all year finetuning their boats in the hopes of being the fastest on the ice.  
"One of the attractions for people is:  'I'm gonna' make my boat faster than your boat' You get a bunch of people together and it becomes a competition," Russell said. 
Ice boaters take safety seriously. They never boat alone, and perform strict ice checks, measuring its thickness, before heading out on the lake.  They also scout the lake to locate any problem areas before they begin to sail. Boaters are also required to keep ice picks in their boat, in case their boat falls into open water.
Many of the rules, such as who has the "right of way" while out on the ice, are similar to those of boats that sail on open water and dictate how each boat shall move while on the ice.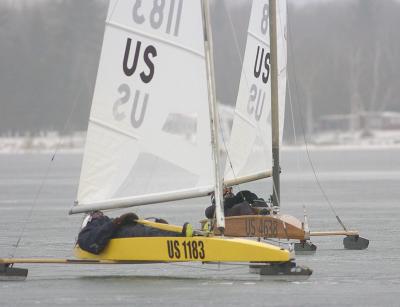 A few years ago, on St. Patrick's Day, iceboating groups from all over the world got together for what they call the "Fun Regatta", the last official race day of the season. Racers feasted on Bratwurst and chile before the races began. 
"On that day, we had the regatta on Elk Lake," said Russell, "It was about an 8-10 mile an hour wind, which is just perfect. The ice all the way up to Kewadin was frozen, twelve miles. Just flawless ice."  
That day, several of the boaters got onto their boat and didn't need to turn for the entire twelve miles. "You just sit back and go for the sail," Russell said.
Those conditions are the dream for every iceboater. 
"The ideal day is smooth ice, moderate winds, and a bunch of people to sail with. There were twelve of us sailing to Kewadin that day "Russell said." We looked like a fleet of mosquitoes." 
Happy mosquitoes I would presume.  
John has been iceboating for thirty years, and the excitement and camaraderie of the sport keep him coming back.  
"You lay down on your back 4 inches off the ice, doing 40, 45 or 50, mph with no brakes and flawless ice.  It's quite a thrill."
A flawless thrill, indeed.