The Leelanau Peninsula's quaint communities boast a diverse and rich art scene highlighted by local art galleries – many of which represent acclaimed regional and national artists. Need a focal piece to hang above your sofa? On the hunt for unique holiday gifts? Looking for a handcrafted souvenir? Add these galleries to your next itinerary.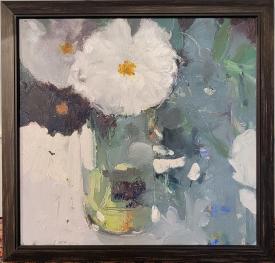 Tamarack Gallery
Celebrating 50 years in business, Omena's Tamarack Gallery is a testament to the region's reputation for quality fine art. The shop began as a small fine crafts gallery featuring 10 artists.
Tamarack sells fine art, crafts, outsider, contemporary, functional, and folk art. The gallery represents more than 40 artists with regional and national acclaim, including names like Dewey Blocksma and Stephen Duran.
"Many of the artists have been with me for over 40 years," says Sally Viskochil, who started the gallery with her late husband, David. "Our philosophy was stick with the artists and let them grow and develop, and we've done that with lots of people."
Tamarack still reflects the original vision to celebrate art and encourage the creative spark within the artist.
tamarackartgallery.com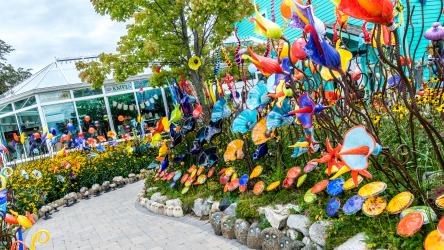 Bayside Art Gallery
Bayside Art Gallery has mastered the draw of roadside marketing, located on a hard-to-miss corner in Suttons Bay. Just look for its bright and whimsical yard décor and gardens.
You will have fun perusing the colorful glass yard stakes and spinners, handcrafted jewelry, ceramics, and glass-blown pieces. Once inside, explore home décor and art from across the globe.
Bayside Gallery strives to make shopping there memorable and enjoyable, showcasing unique gifts and home items to suit all styles and budgets.
baysidegallery.net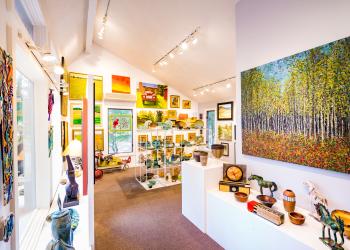 Synchronicity Gallery
With nine bright gallery spaces, Synchronicity Gallery in Glen Arbor is worth a visit if you like to support Michigan artists or bring home original art from the region.
The gallery located on Western Ave. curates work from over 90 artists in all mediums: paintings, pottery, sculptures, jewelry, photography, glassware, and furniture. Gallery owners David and Jill Thomasma enjoy representing new talent as well as sought after artists.
Synchronicity features art that appeals to a wide range of tastes, from abstract to realist and traditional to contemporary, at a variety of price points.
synchronicityartgallery.com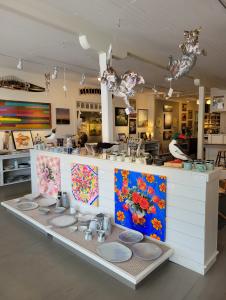 Main Street Gallery
While browsing the shops in Leland, be sure to check out Main Street Gallery – a white-columned building designed as an art gallery with metal sculptures and gardens on the river.
The gallery has been in business for over 35 years and is your destination for original art by some of the region's most accomplished artists. Open daily through December, the gallery sells metal sculpture, oil and acrylic painting, watercolors and pastels, glass, woodcarvings, and more by 40 northern Michigan artists.
The gallery is part of Heartmonic Holdings, LLC, a good works enterprise started by owners Daniel and Anna Okinsky. The Oginskys purchased the gallery from founder Malcom Chatfield in 2018, continuing the gallery's legacy of showcasing fine art while creating opportunities for artists, patrons, and the community to gather and celebrate the local art scene.
mainstreetgalleryleland.com