August opened with a history-making storm that slammed the Lake Michigan coastline. Leelanau County—home to the Sleeping Bear Dunes—was one of the hardest areas hit. Record-setting winds snapped and uprooted thousands of trees that blocked roadways and hiking trails, smashed homes and cars, closed campgrounds and businesses and caused power outages that lasted for days.
Here's a roundup of major news stories that helps put the extent of the damage in perspective; the efforts being poured into the cleanup; some good news that some major Sleeping Bear attractions have already reopened; and a heads-up on a special M22/LOVE t-shirt offer to benefit storm victims .
A Bird's-Eye View Of Storm Devastation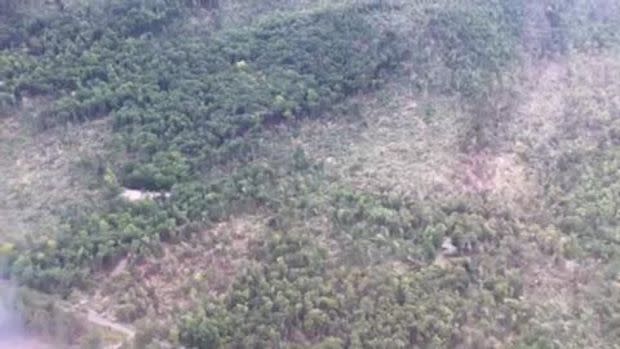 Jake Therrien's video shows the destruction on Alligator Hill caused by the Aug. 2, 2015 storm. [Mlive.com]
Sleeping Bear took a direct hit from the hurricane-force winds that swept in over Lake Michigan on August 2nd. Four days later, Mlive featured a 38-second video from Jake Therrien, a Lake Ann-area pilot, who surveyed the path of destruction from Alligator Hill to M-22 before Glen Arbor. Click the hyperlink above to check it out. In Therrien's video, huge swath of trees can be seen knocked down in a random pattern of damage that Therrien described as looking "like a tornado hit Alligator Hill and bounced down into the valley where it runs into Heritage Lake and then to Glen Lake." At this writing, Alligator Hill remains closed.
Sleeping Bear Re-Opens With Help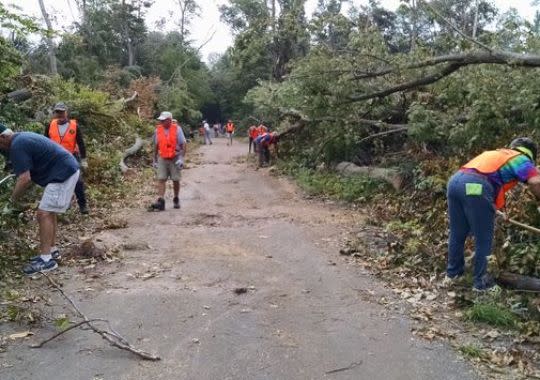 Friends of Sleeping Bear Dunes Trail crew clean up after a severe storm ripped through the area. [source: freep.com/Tom Ulrich]
Ten days after the storm, the monumental effort of cleanup crews led to the re-opening of many popular Sleeping Bear Dunes trails and attractions. This WZZM 13 news report, picked up by the Detroit Free Press last week, features a great video with an interview with Sleeping Bear's Deputy Superintendent Tom Ulrich, who describes how fast and hard the storm hit the Lakeshore. Also in the video are interviews with park visitors, footage of local crews working to get the park open and storms stories about visitors forced to flee campgrounds and at least one group of hikers who were caught out in the woods as 100-MPH winds toppled trees all around them.
Sleeping Bear Heritage Trail Reopens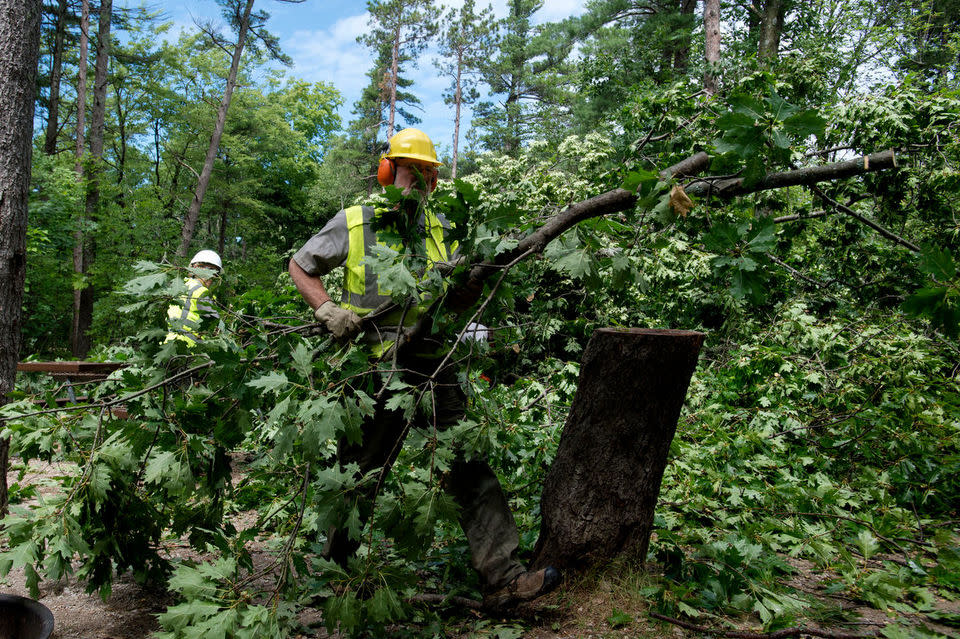 [Neil Blake | MLive.com]
On August 15th, nearly two weeks after a major storm slammed the Lake Michigan coastline and areas inland, the Lakeshore's most popular biking and footpath is now reopened. Mlive put together a great slideshow and report featuring the work of cleanup crews clearing trees on the Sleeping Bear Heritage Trail, from Glen Haven to Glen Arbor.
D.H. Day Campground Reopens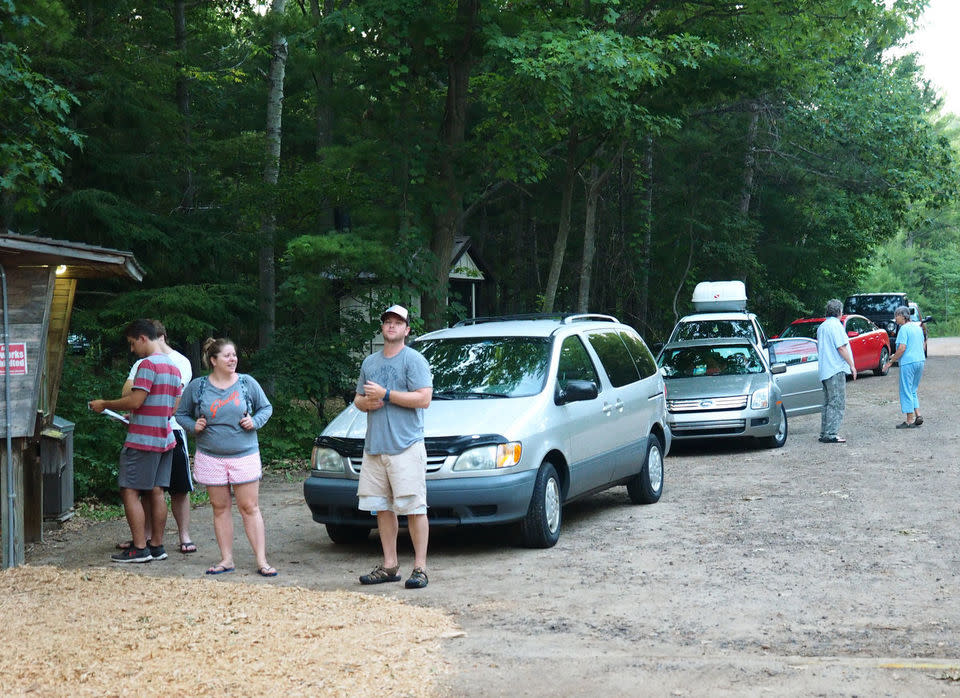 [Mark Bugnaski / Kalamazoo Gazette/Mlive]
Mlive reporters were again on the scene for the reopening of Sleeping Bear's D.H. Day Campground on August 16th. The campground was one of the places park officials described as "unrecognizable" after taking a direct hit from the August 2nd storm. The slideshow accompanying the report shows the campground as it looks now, with everything back up and running.
Buy A Shirt. Help A Storm Victim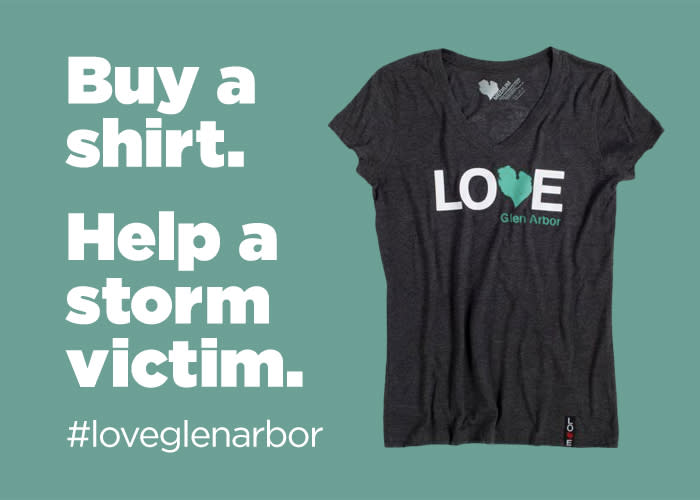 Glen Arbor was a town arguably hit the hardest by storm winds and falling trees that crashed into homes, crushed cars, blocked roadways and cut power to the town and surrounding areas for days. Over on the "field notes" section of the M22 website, the iconic Northern Michigan brand is doing their part to help some of the people financially impacted by the event.
"Nearly every one of M22's Glen Arbor store staff had a car damaged by fallen trees, some to the point of total ruin…These hardworking people—mostly college students, saving for the upcoming fall semester—are left devastated. Because of insurance costs, most of the repairs have to be paid out-of-pocket."
To help defray some of the cost for staff members, M22 has come up with a special t-shirt and a special offer.  Created exclusively for M22's Glen Arbor store, LOVE Glen Arbor t-shirts are now available via Paypal or at the Glen Arbor store location. For each LOVE Glen Arbor shirt sold in M22's Glen Arbor store, the company is donating $10 to help staff members repair or replace their vehicles. CTo order, check out the website by clicking here. Or call the Glen Arbor store at 231.334-4425.