After seven years of planning, work recently wrapped up on the Sleeping Bear Dunes National Lakeshore's newest hiking and ski path.  Be one of the first to check out the three-mile Kettles Trail. Here's the scoop on the trail's "glacial" significance and directions on how to find and explore this little known corner of the park. By Bob Butz | Adventurist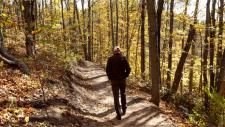 [source: friendsofsleepingbear.org]
With over 100-miles of trail, the Sleeping Bear Dunes has one of the most extensive trail systems of any National Lakeshore in America.  But until this summer, virtually all of the established 13 mainland hiking and ski paths were located along the Lake Michigan coast. The Kettles Trail is different because it's located in a corner of the park most visitors—and a lot of locals—didn't even know existed.
About a 10-minute drive east of the Philip A. Hart Visitor Center in Empire, the Bow Lakes region of the National Lakeshore was added in the early 1980s because of the unique glacial topography of the region. The underdeveloped area features kettle bogs and lakes—basically "potholes" created by the dead ice of retreating glaciers that blanketed the area up until around 10,000 years ago.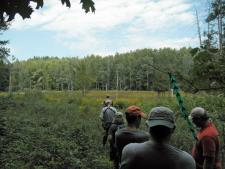 Friends of Sleeping Bear Dunes trail-building crew exploring the unique "kettle bog" located along trail.  [source: friendsofsleepingbear.org]
Thanks to the Friends of Sleeping Bear Dunes, construction of Kettles Trail wrapped up in early June. The trailhead is on Baatz Road, about one mile north of M-72 and just west of Fritz Road. The three-mile footpath has some significant slopes through kettle moraine terrain with steep hills, valleys, and ponds or bogs. The first section of trail—a wide and universally accessible crushed/compact stone path—runs from the parking lot to an overlook. The rest of the footpath offers moderate hiking and advanced cross-country skiing this coming winter.
Click here for a detailed map on how to get there. And, remember, parking access and use of any trail in the lakeshore does require a park pass.