Beautiful winter scenery. Freshly groomed snow. Save your spot for Sunday, January 19, 2020 at 1pm when preserve experts with The Leelanau Conservancy will be hosting a guided ski tour at their largest natural area. Here's the scoop on how to sign up…
By Bob Butz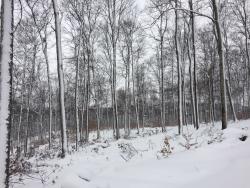 Last month in Leelanau County, the weather was throwing out numbers like it was Powerball—17, 48, 50, 33, 20, 57. Unreliable temperatures means an unreliable season for fun, snowy-weather activities. So take advantage of this past week's cold-weather snap. The light snow it brought might not be around that long.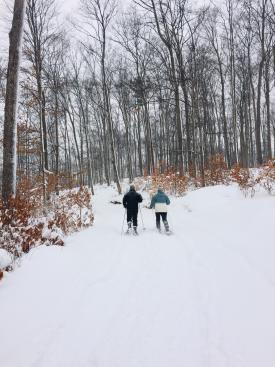 Friends of Sleeping Bear Dunes grooming the cross-country ski path at Palmer Woods Forest Preserve reported a base of 3-6" crusty snow with 2" of fresh powder. That's just in time for this weekend's upcoming guided ski tour led by docents Joan Longton and Mary Burton.
Opened in 2016, this 721-acre forest reserve is located just over a mile from Big Glen Lake off of M-22 on Wheeler Road. From M-22, turn south onto Wheeler Road (the only way you can turn), and go about three miles. Look for signs on your right..
A moderate level of cross-country ski experience is recommended for the 3.4 mile tour along the flat-to-gently rolling Price Valley groomed trail. Bring your own equipment. 
Reserve your spot online by clicking here.