The holidays are approaching, which means the eclectic and charming shops of Leelanau County have seasonal items on their shelves – from comforting fall décor to the warmth of ol' St. Nick. Check out these cute finds in the county celebrating the upcoming holiday season:
Front Porch, Suttons Bay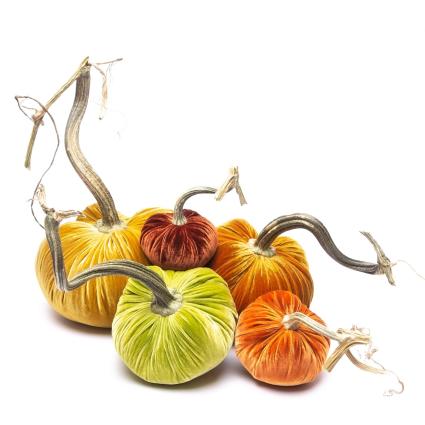 Silk Velvet Pumpkins
When you see these delicate and endearing pumpkins, you simply must touch them! These Hot Skwash silk velvet pumpkins are handmade in Oregon by trained artisans. Each piece is hand-cut and sewn and finished with a natural stem. (The stems are specially curated varieties to ensure beautiful shapes!) Each pumpkin is signed in gold for an authentic Hot Skwash touch. Look for colors of gold, chartreuse, persimmon, and "fire" and all different kinds of sizes to mix and match.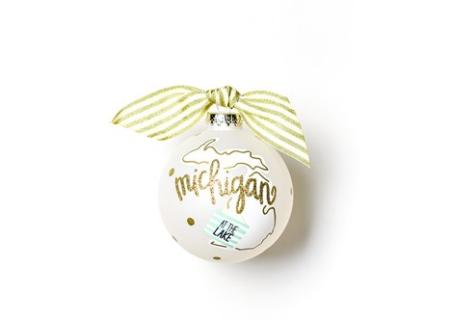 Michigan Motif Glass Ornaments
The Michigan Motif Glass Ornament, with its striped ribbon and signature gold lettering, is a "Happy Everything!" product – what's not to love about a company with that kind of name? The company's website says, "We design Happy Everything! products to spark enthusiasm to live a happy life." They offer several other ornament designs to choose from as well, many of which are carried at the Front Porch in a pretty window display upfront.
Painted Bird, Suttons Bay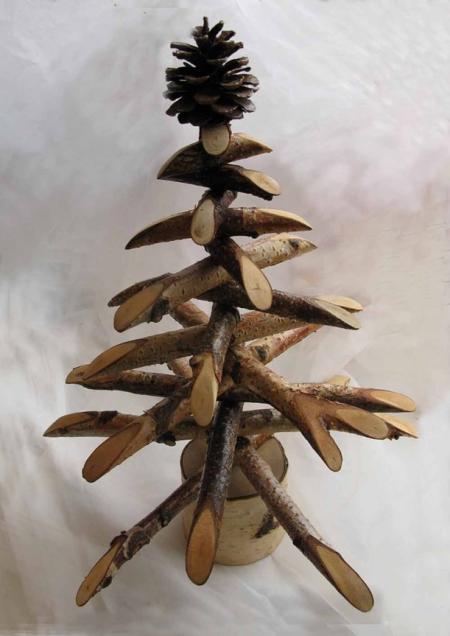 Birch Tree, Trees!
Artist Sandra Michalik's business, Branch Works North, is based in Cadillac. From her little perch not far from Leelanau County, she fans out to find fallen birch trees in the northern woods. She harvests their beautiful limbs to bring them to life again in these tabletop beauties. Her trees range in sizes from 5 inches tall to 4 feet tall! A perfect wintery accent to celebrate the first snowfall of the year.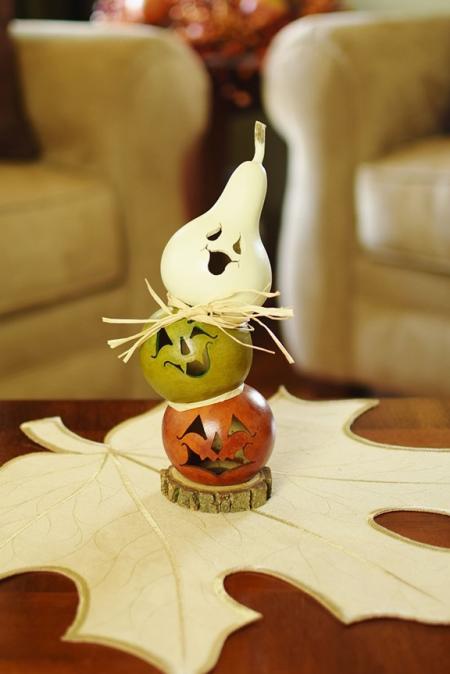 Jack Stacks
There are several different "Jack Stack" statues to pick from. This one stands about 9.5" tall. The bottom jack is dyed burnt orange, the middle witch is dyed green while the top ghost is painted white. Each different fall face is hand crafted and each stack comes with a unique wood biscuit base and raffia. Because this design is crafted using a natural gourd, each piece is ever so slightly different to make for a unique artisan piece with natural variance in color and size. Collect them all!
Laughing Fish, Suttons Bay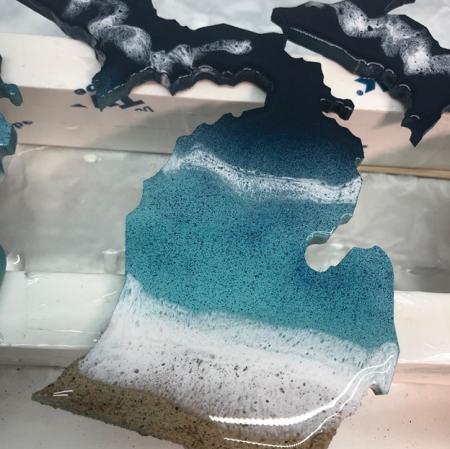 'Rough Seas' Resin
Each year. Becca VerStrat creates a different ornament "style" to add to her growing business, B.VerStrat Designs, based in New Baltimore, Mi. This fall, she introduces "Rough Seas" – a sandy, white-wash-blue-water design for her handmade resin ornaments.
She says, "I'm always hesitant thinking what if it doesn't go over well? Part of growing as an artist is just trusting the process and loving the final result. Each piece has its own unique style. Due to the nature of resin, all wave patterns are one of a kind."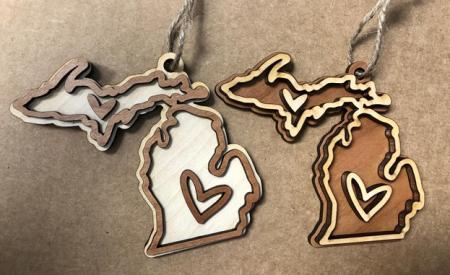 Becca also has introduced new wooden Michigan ornaments, using a mix of Cherry and Birchwood. These adorable, delicate, ornaments are a must-have for a Michigan Christmas.
Two Fish, Leland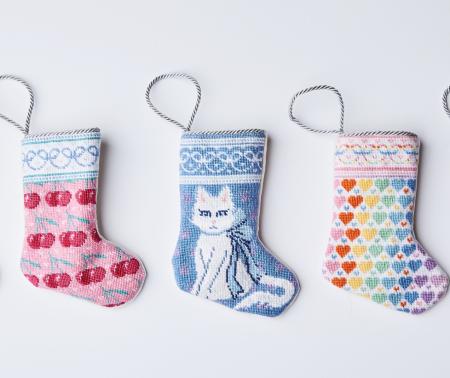 Bauble Stockings
There's a new tradition in town: Bauble Stockings. A Bauble Stocking is used to give -or hold a clue to - the final gift of Christmas. Consider these gorgeous 7-inch tiny wonders a grand finale to the holiday. They are hand-stitched needlepoint made for fair trade in Haiti and 5% profit goes to the Atlanta Children's Shelter. Each stocking includes a card explaining the Bauble Stocking tradition. Pick from cardinals, cherries, Santa and more. Local artist Katherine Miller will be designing for this company next year!
Fishtown Welcome Center, Leland
https://www.facebook.com/FishtownMI/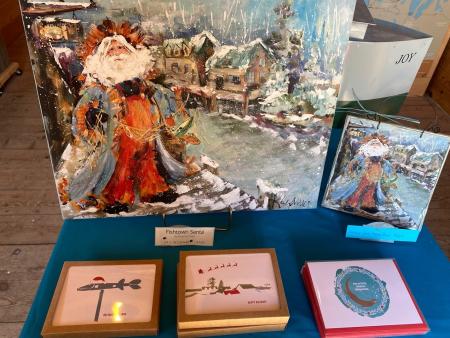 Fishtown Santa
Look who's making an appearance at the Fishtown Welcome Center! They have just a few of the Fishtown Santa items by Rozanne Priebe in stock. There's a 24x18 Canvas or a smaller hanging board to pick from. This s the epitome of Michigan Christmas and Ol' St. Nick in one!
Imagine That, Glen Arbor
https://imaginethatupnorth.com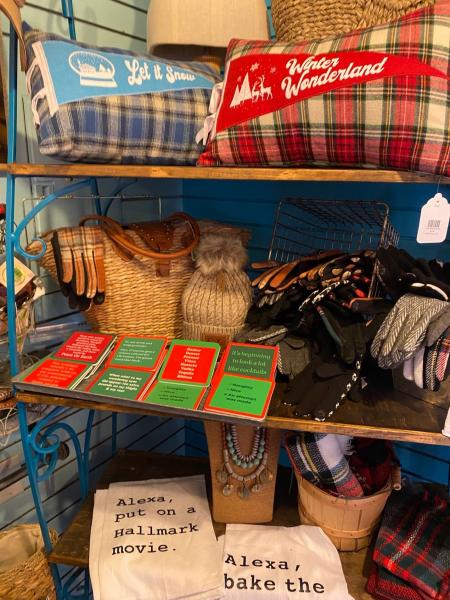 A Glen Arbor Christmas
This shop has a fun assortment of Christmas décor, including tea towels that read: "Alexa, bake the Christmas cookies!" Set your drink on fun red and green coasters that read "It's beginning to look a lot like cocktails," add an accent "Winter Wonderland" red-checkered pillow to your couch and call out, "Alexa, turn on a Hallmark movie!"
The Secret Garden, Empire
https://secretgardenempire.com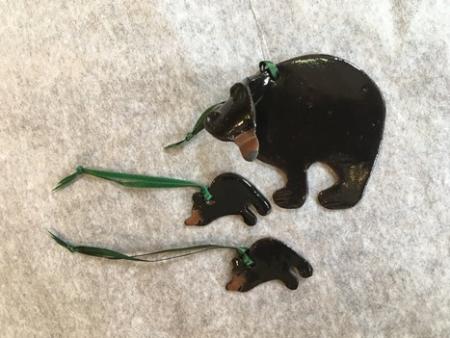 Sleeping Bear & Her Cubs
Hang these 3 bears on your tree to remind you of your time up north. The ornament set comes with Mama bear and two cubs, as in the Legend of Sleeping Bear, in which the Sleeping Bear Dunes are the mama bear, and North and South Manitou Islands are the cubs.
These are made at Wayne Village Pottery, with Maine "blue" clay, the same kind of clay used by early redware potters. Their website notes, "Bears are revered as a symbol of courage. The intelligent, resourceful Black Bear is the spirit of the wild, deep woods, a place of transformation and restoration." Each ornament is crafted by hand. Because of this, no two (or should we say 3!) are exactly alike.