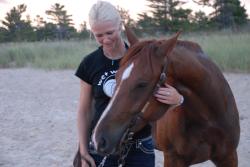 Morgan Fisher likes to move – surfing, kiteboarding, horseback riding, swimming with dolphins, trekking through "mountains, jungles, volcanoes, desert." A Northern Michigan native, she has lived in six other states, including Hawaii, and traveled the world. All of that movement is apparent in her art, which never feels static and always buzzes with rhythm, dynamism, electricity.  While the beauty of Leelanau, in the hands of some artists, can be soft and nostalgic, in Morgan's hands it's alive and rooted in the now. Nature is taken seriously as a force. You can have fun in those undulating waves, but don't underestimate them. You can admire the vibrant Indigo Buntings against chartreuse foliage, but to me they're not "cute": they're powerful, sublime beings. Morgan conveys a sense of awe for nature.
Her work has been featured at the Tamarack Gallery in Omena, River and Main in Leland, the Old Art Building in Leland, ArtPrize at DeVos Place in Grand Rapids, among other places, including her website, pinksailstudio.com. Currently you can experience it at the Tamarack Gallery and River and Main. If you're interested in acquiring a Fisher piece, you may contact her at fishermh20@icloud.com. Her oeuvre includes paintings and woodcut prints of an eclectic variety of subject matter, reflecting her life experiences. Given my love of Leelanau landscapes, I confess my eyes were drawn to the stunning turquoise water, sand dunes, and islands…Her vistas of the Sleeping Bear Dunes National Lakeshore are among the most striking I've seen.
I wanted to understand what makes Morgan Fisher tick, and learn more about her life as a Leelanau artist.
By Vaughn D. | Art Aficionado
I'll start with a question that I always enjoy asking artists. What is your spirit animal, and why?
I love horses, dolphins, and birds. I'm not sure I can pick one spirit animal – seeing many animals and mammals affects me. They lift my spirits.
What are some challenges and windows of opportunity for a local artist in this area?
I imagine the biggest challenge is winter, in regard to selling one's art. But it's also one of the best times to produce art. The windows of opportunity are summer and fall: big sales to loads of excited tourists and show opportunities at galleries, farmers' markets, stores...
I've heard you've sold some of your work to celebrities. Is that true? If so, how did that happen?
I have always been fearless in reaching out to people regarding their work or mine. We are all humans. I've made a few good connections this way and through others. 
I admire the vibrancy of rhythm and colors in your work. It makes your depictions of the Sleeping Bear Dunes National Lakeshore stand out among others. At the risk of causing trouble, I'm curious…Are there certain styles of art that you find boring or off-putting, and do you try to stay away from those?
I appreciate all kinds of styles, expression, mediums. Art school, travel, education all allow me to appreciate what others are doing. There's nothing "off putting," unless someone is ripping off someone else all the time and is never original nor honest in their creation. I appreciate a sincere voice, no matter what the work is. We all cross over into another's territory of subject matter, style and medium. But sincerity can be felt. 
Who are some artists, in any medium, who have inspired you?
There are so many: artists, musicians, athletes, family, friends, teachers. I really liked the Bay Area artists and die brûke artists. Milton Avery... 
What is your process like? For instance, do you always work at a certain time of day?
Generally, I love working at home in quiet space alone in the house with windows open, listening to the birds, trees, wind, water. Sometimes I play music if I'm doing very physical work like large woodcuts or need distraction from day to day grind or need inspiration. Rainy days and snow storms are quite productive times. After being outside, I can relax and settle in for hours. I usually have multiple canvases going at once . 
Is there a place in Leelanau – a certain hike, or beach, or any location – where you go for peace and inspiration?
Port Oneida, Glen Haven hikes, Pyramid Point, Shalda Creek area, Empire, Leland, Point Betsie, the Platte, Lake Leelanau, Little Traverse Lake. 
What would your advice be for a budding artist?
Finding inspiration from others, art history, travel, visiting museums and galleries, raw art, nature, spending time alone and in nature, listening to music and being comfortable alone and silent.