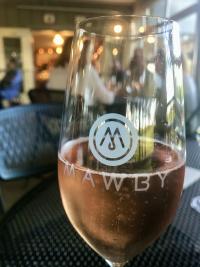 Leelanau Trail, bubbly, beans and broth
The Leelanau Trail runs from Suttons Bay to Grand Traverse Bay, over creeks, under tree tunnels, and through 17 miles of the scenic farm and vineyard land this area is famous for. A bike-and-ride bus makes your adventure extra convenient. But wheeling your way down this evenly paved trail is the fun part. From Suttons Bay, head four miles to marker 13 and veer toward L. Mawby Vineyards (50 years old this year) for a flight of bubbly made in the champagne style. Then continue south; there's a trail sign marking the way to the acclaimed Farm Club where produce-focused meals like their signature "beans and broth" are memorably fresh.
Betsie Valley Trail, beer and a beach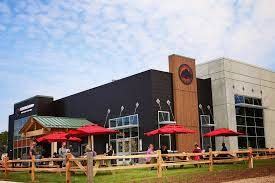 This trail extends 22 miles from Frankfort to Thompsonville, but taking just the six paved miles from Frankfort to Crystal Lake and back gives you views of bays, rivers, and wildlife aplenty. Start at Frankfort's stunning beach, stretch your legs with a stroll on the pier, then pick up a rental bike at the Crystal Lake Adventure Sports kiosk. Glide toward Elberta, the bay to your right, then head into shady woods. When pavement runs out, head back to linger over a Neon Sunshine at Stormcloud Brewing Company just a block off the beach—or an optional root beer float at the A&W.
Sleeping Bear Heritage Trail, Whiskers and chocolate

The Homestead and its Whiskers restaurant with outdoor grill and games, empanadas, and yuca fries, is walking distance off the Sleeping Bear Heritage Trail. Fuel up here, then take a memorably scenic route through popular Sleeping Bear Dunes National Lakeshore stops like the Dune Climb.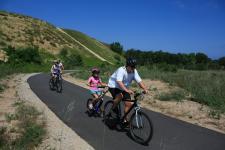 Keep gliding toward the North Bar trailhead, the trail's southernmost point, then meander another mile down M-22 toward dessert at Grocers Daughter Chocolate. A new gelato shops opens on weekends when weather warms but fudgesicles made from Ecuadorian-sourced cacao are sold amid truffles and other delicacies.