Some of the region's best food can be found with your pint! 
By Kim Schneider | Foodie
If your server suggests a "dark and nutty porter with a nice malt balance" with your supersized stack of pancakes, or maybe a blonde ale with Simcoe hops with your scrambled eggs and bacon, you just may be ready to savor the family-style brunch at Big Cat Brewing.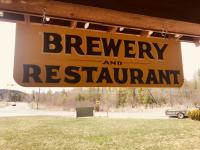 Big Cat—formerly Cedar Rustic Inn—is just one of Leelanau's microbreweries notable not just for its culinary beers, but for its culinary scene in general.
Breakfast isn't the only option at this spot at the casual restaurant in Cedar. But it does come with the worthy and unusual option of family style buffet. You don't go to a buffet line for this all-you-can eat extravaganza; instead, plates heaping with eggs, bacon, homemade biscuts and gravy and more are served hot to the table each Sunday. (Just be sure you're all in agreement. Everyone at the table has to be in on the special).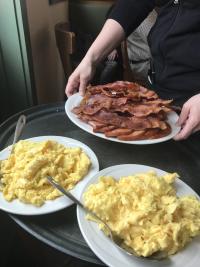 Chef Aaron Acker, a graduate of the Culinary Institute of American in Hyde Park, New York, started making beer a few years ago s a way to renew his enthusiasm for his creative craft. He changed the restaurant name to relect the new specialty, and while he hasn't done many beer/food pairings (yet), you will find creative menu items like the chicken shawarma wrap and offerings infused with beer, among them the beer cheese dip and chocolate stout cake.
This isn't the only food-first (or equal) microbrewery in the county. Cherry Public House in Glen Arbor is notable for the way you can sip a Leelanau Lamic sour ale made from Montmorency cherries in the comfortable lodge-style space, or get in the evening mood with a night swim sweet cherry porter. But the restaurant carries through the Cherry Republic flagship store's ethos of infusing every food and menu item with cherries, down to the cherry bbq ribs, cherry chicken salad or memorable specials like grilled pork chops finished with a cherry apple pear butter.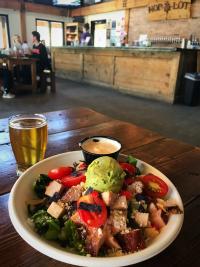 And at family-friendly Hop Lot Brewing Company in Suttons Bay, the food has become such an attraction that the microbrewery is in the midst of a major kitchen expansion, slated for completion before its June 1 fourth anniversary bash. Food making, previously done just on an outdoor grill, will be moved inside the limit lines, but expect to still find highlights that locally sourced ingredients and others—like the cherry soda-infused pork used for tacos—that reflect the region. Remaining a culinary must is the "kit" that lets you make S'Mores over the roaring fires, on the spot.