After finishing that salty, savory sandwich or a juicy burger, you may be thinking to yourself, "now I wish I had something for dessert." Well, don't worry because these three places have just the thing to satisfy that post-meal sweet tooth. All located in Leelanau county, these small businesses work hard to provide the absolute best products with a wide variety of items that will surely leave customers coming back for more.
Grocer's Daughter
Grocer's Daughter is a quaint little chocolate shop located in the heart of Empire. It is a bright green building you surely cannot miss if you are passing through the town. Grocer's Daughter is every chocolate lover's dream. From melt-in-your-mouth truffles to rich hot chocolate, they sell it all. Some of their notable summertime items are their rich, creamy fudgesicles. 
Their fruit slushies and shakes are another treat that will surely cool you down on those scorching summer days.
If you ever catch yourself in need of a cool-down after a long day in the sun at Empire beach—Grocer's daughter is the place to go.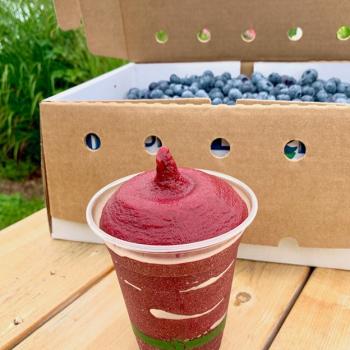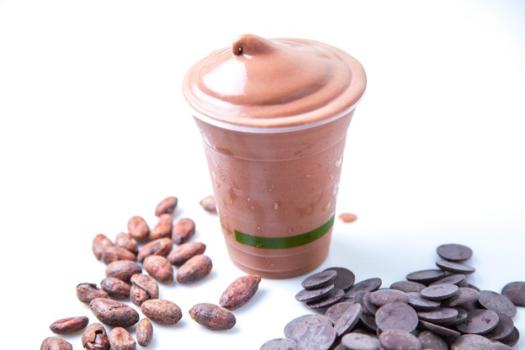 9 Bean Rows
9 Bean Rows is another phenomenal bakery located in Suttons Bay, just outside of Lake Leelanau. 9 Bean Rows bakes varieties of homemade breads, bagels, pizzas, and sandwiches.  You've heard of farm-to-table, but have you ever experienced farm-to-baked goods?  What is so unique about 9 Bean Rows is that they are a farmstead and use only the freshest ingredients.  A fan-favorite of 9 Bean Rows is their freshly made croissants.
They offer a variety of sweet and savory croissants, to satisfy whatever you might be craving. Some flavors include chocolate, almond, spinach & feta, ham & cheese, and classic butter. These buttery, flaky, baked-to-perfection croissants are worth the trip into Suttons Bay—trust me. Another must-have from 9 bean rows is a bakery classic; a fresh loaf of their homemade bread. 
If you can't make the trip into Suttons Bay, you can find some of their delicacies at the farmer's markets held across Leelanau County. However, make sure you get there early, otherwise, your favorite croissant might be sold out!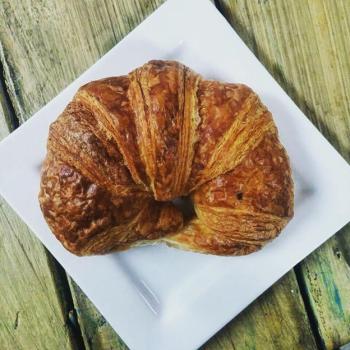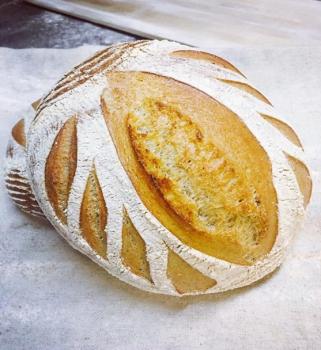 Hannah's

Hannah's is a bakery located in Lake Leelanau that opened up just before the pandemic. The incredibly talented bakers at Hannah's design custom wedding cakes, birthday cakes, cupcakes, and more. The bakers experiment with fun colors and unique designs as seen on the cake pictured to the left. 
Their carefully crafted wedding cakes are so beautiful, you almost don't want to eat them. Until you take the first bite, of course.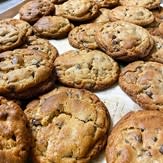 Hannah's does not limit themselves to just cakes; they also bake gooey cookies with flavors that will blow your mind and taste buds. Some of their cookie flavors include Nutella Toffee Crunch, Lemon Blueberry, Strawberry Rainbow, Red Velvet, and the list goes on. These are delicious, giant, and will surely leave you wanting to go back for more.
In addition to the wide variety of delicious cookies, Hannah's also has just as large of a variety of cupcakes; a great way to taste their moist creative creations even without special occasions.  Pro Tip: Buy several different kinds to share in small bites after a summer BBQ.
Hannah's does not limit their baked goods to just sweets—they also serve sandwiches if you're in the mood for something a little more savory to enjoy alongside your sweet treat.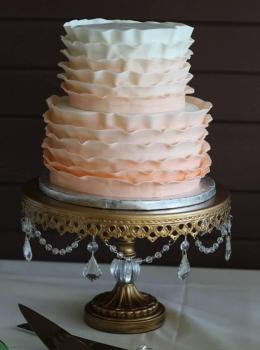 I'm sure after reading this article you are craving at least one of these delicacies. This is your sign to go out and treat yourself while also supporting local small businesses. Trust me, you won't regret it.
For more information on these shops, along with hours and menus, click here:
https://www.grocersdaughter.com